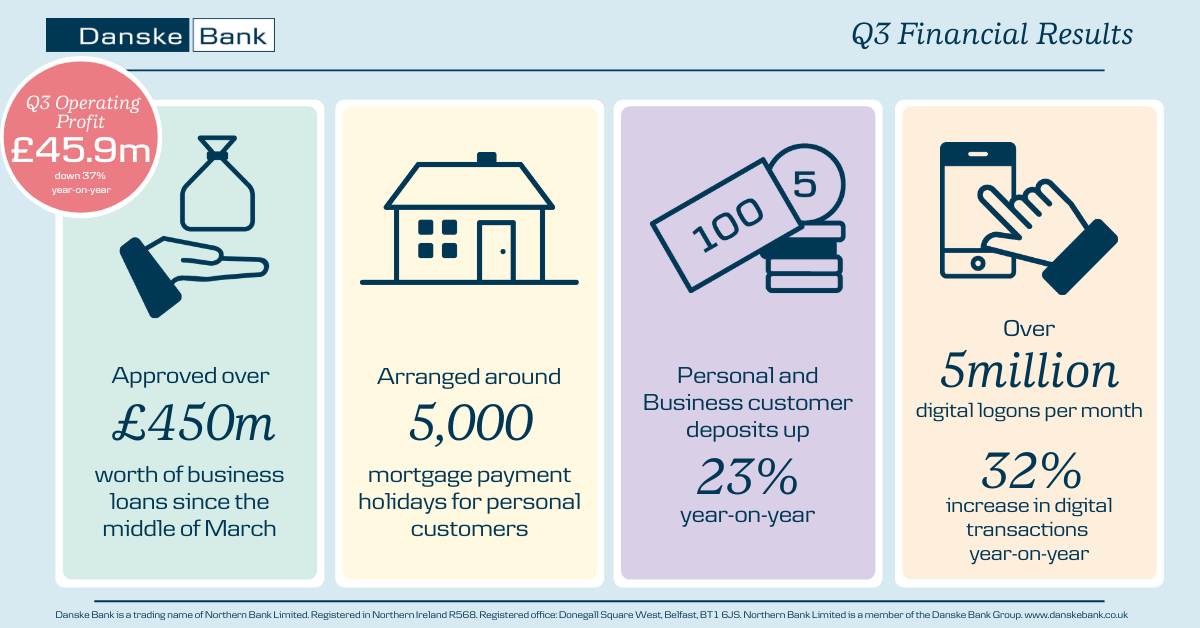 (GBP millions)
Ytd Q3
2020
Ytd Q3
2019
Index 20/19
Total income
153.3
175.5
87
Expenses
-107.5
-103.0
104
Profit before loan impairments
45.9
72.5
63
Loan impairments
-35.3
-1.4
Profit before tax
10.5
71.1
15
Loans (end of period)
5,607m
5,457m
103
Deposits (end of period)
9,056m
7,369m
123
Operating Profit for the first nine months of 2020 is £45.9 million, down 37% year-on-year.
Lending is up due to unprecedented levels of support given to business customers during the pandemic, alongside mortgage lending, which has remained at healthy levels.
Many personal and business customers have focused on paying off debt and holding cash, with deposit growth up 23% year-on-year.
Higher loan impairments allow for the potential that a greater number of customers will experience financial difficulties over the months ahead.
Danske Bank maintains a strong funding, liquidity and capital position and will continue to use this capacity to support personal and business customers.
Kevin Kingston, CEO of Danske Bank UK, commented: "Like so many of our customers, the Bank is not immune to the business impacts of the pandemic. Income and profits are much reduced year-on-year as a result of coronavirus impacts, subsequent provision for potential future loan impairments and historically low interest rates. Our primary focus remains to support our customers and to look after our colleagues, who, as key workers, have continued to offer the levels of service that the people of Northern Ireland have come to expect from Danske Bank.
"In Corporate & Business Banking we have approved over £450 million worth of coronavirus related business support loans since the middle of March, with over £370 million of this volume provided through the Government backed Coronavirus Business Interruption Loan Scheme (CBILS) and Bounce Back Loan Scheme (BBLS). This assistance spans over 9,000 local business-funding approvals.
"In Personal Banking, all of our branches have continued to remain open throughout the crisis to support our customers offering greater branch availability, in terms of opening hours, than any other local bank. We arranged around 5,000 mortgage repayment holidays, with a further 675 personal loans and credit card repayment holidays. Mortgage growth received a boost after the Q2 lockdown period finished and the housing market reopened, however it is likely to revert to more modest levels over the months ahead.
"Customers, both personal and business, are saving more than ever, with deposit growth up 23% yearon-year. We also saw further customer adoption of our digital channels, with more than 5 million digital logons per month and a 32% increase in digital transactions year-on-year.
"The coronavirus disruption to our economy looks set to continue for longer than we all hoped. Alongside this, Brexit uncertainty still prevails – with less than two months until the transition period ends on 1st January and Northern Ireland's trading relationship with the rest of the UK changes.
"As Northern Ireland's biggest bank, be assured that Danske Bank has the commitment and the capacity to continue to support customers, the community and the wider economy through these troubled times."