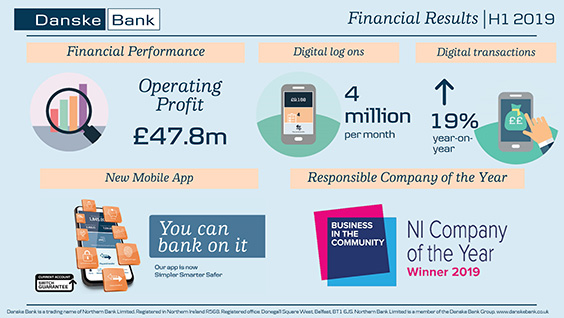 Operating profit of £47.8 million, up 3% year-on-year
Lending is 5% higher year-on-year
Income is 1% higher year-on-year
FINANCIAL RESULT (GBP millions)
H1
2019
H1
2018
Index 19/18
Total income
117.2
116.0
101
Expenses
-69.4
-69.5
100
Profit before loan impairments
47.8
46.5
103
Loan impairments
-1.9
-5.8
Profit before tax
45.9
40.6
113
Loans (end of period)
5,447m
5,117m
105
Deposits (end of period)
7,208m
7,075m
102
Danske Bank in Northern Ireland reports a profit before impairments of £47.8m for the first half of 2019.
Total income is 1% higher reflecting balance sheet growth alongside higher average UK interest rates. Despite continued economic uncertainty, lending is 5% higher year-on-year with retail customer activity levels remaining satisfactory, although new lending to businesses has been impacted by Brexit - with some larger customers delaying investment decisions. Customer deposits grew by 2% year-on-year.
Costs are maintained at 2018 levels, as the Bank continues to manage its cost base, while also allowing for ongoing investment in new customer solutions and skills to ensure customer needs are met.
The combination of higher income and cost control delivered a 3% increase in profit before impairment charges.
Profit before tax is 13% higher, reflecting reduced loan impairments compared to the same period last year.
Danske Bank continues to have capacity to support further lending growth as demonstrated by a loan to deposit ratio of 76% as at June 2019.
Commenting on the results, Danske Bank UK CEO Kevin Kingston, said:
"I am pleased to report an operating profit of £47.8 million for the first half of 2019. The underlying performance of the Bank remains healthy, with lending up 5% year-on-year.
"In May we were delighted to be named Northern Ireland's Responsible Company of the Year by Business in the Community. We are very proud of this and it is a reflection of the positive societal impact we continue to make, alongside our various community partners, right across Northern Ireland.
"In the digital space, this year we have seen more than 4 million digital logons from customers each month and a 19% increase in digital transactions year-on-year.
"As a result of these growing trends, we have made a significant investment in the development of new digital platforms. Our new Mobile Banking App for personal customers is available for download and we would encourage customers to switch over to it now, as from 10th September our old App will no longer be available. Later this year we will also launch a new Business eBanking platform called District. These two platforms will provide customers with an enhanced, customisable digital user experience.
"In Personal Banking, we continue to provide attractive mortgage rates, compelling home buying products and our mortgage lending volumes are at their highest ever level. I am also pleased that we are continuing to support the not-for-profit organisation Co-Ownership and that Danske Bank is currently supplying finance for over 50% of their applicants, helping more families get affordable homes.
"In Business Banking, lending continues to be more subdued, largely as a result of the elongated Brexit process. Lending during the first six months of the year has been predominantly to existing business customers, some of whom are progressing growth ambitions, with others extending their facilities with us to ensure they are prepared for any economic challenges associated with Brexit.
"We recently published our Northern Ireland Quarterly Sectoral Forecast report for Q2, which contains projections for local economic and employment growth in 2019 and 2020. We expect the Northern Ireland economy to grow by 1 per cent in 2019, and for the rate of growth to pick up to 1.3 per cent in 2020. These forecasts are based on the assumption that a no-deal Brexit is avoided and that the UK eventually leaves the EU with a deal. It is imperative that the Government uses the coming months to agree with the EU an amicable resolution to the Brexit impasse. We, alongside the overwhelming majority of the business community, remain resolute in our view that a no-deal Brexit must be avoided."
ENDS
For more information about Danske Bank Group's financial statements, please go to www.danskebank.com/reports