Eleven Eco-Schools across Northern Ireland have teamed up with Danske Bank to plant orchards and fruit bushes as part of a drive to protect and restore Northern Ireland's biodiversity. The goal is to educate as many children as possible about the global biodiversity emergency, while empowering them to take action within their own school communities.
The Biodiversity and Outdoor Learning project is being delivered through the Eco-Schools network and will equip schools with the resources for outdoor learning, which has been shown to raise academic performance, strengthen social and personal skills and improve the physical and mental health of children.
Raymond Millar, Head of Property & Procurement Services at Danske Bank said:
"This is the second year we have supported the project and it has been a great way to help kids learn about biodiversity whilst enjoying the health benefits of learning outdoors. It's a key part of our own biodiversity strategy, which includes initiatives to enhance biodiversity at our properties, such as productive gardens, and helping raise awareness about biodiversity issues.
"Most of the spade work is going to be done by the children themselves, alongside their teachers and local Danske Bank volunteers. Our colleagues are very excited to be involved."
Jilly Dougan, who leads the biodiversity recovery team for charity, Keep Northern Ireland Beautiful, who manage the global Eco-Schools network in Northern Ireland, will be working closely with the participating schools. She said:
"Schools are responsible for a significant area of land, and if these spaces are managed with nature in mind, they can make a real difference to reversing biodiversity loss. They can also provide healthy, sustainable food for the school community as well as fostering a real sense of achievement and respect for nature in all its glorious diversity and complexity. In recent decades, I think society has underestimated the importance of nature as part of the educational experience, but when children learn outside, schools often find that they concentrate better, are calmer and are able to connect and remember information."
She continued:
"Sixty-three schools recently took part in a virtual webinar on the project, so there is huge interest among local schools and I envisage the project going from strength to strength."
As well as supporting the initiative financially, volunteers from Danske Bank will help with the planting at each school.
After planting is complete, children will learn how to take care of their garden and how to make use of the harvest throughout the season.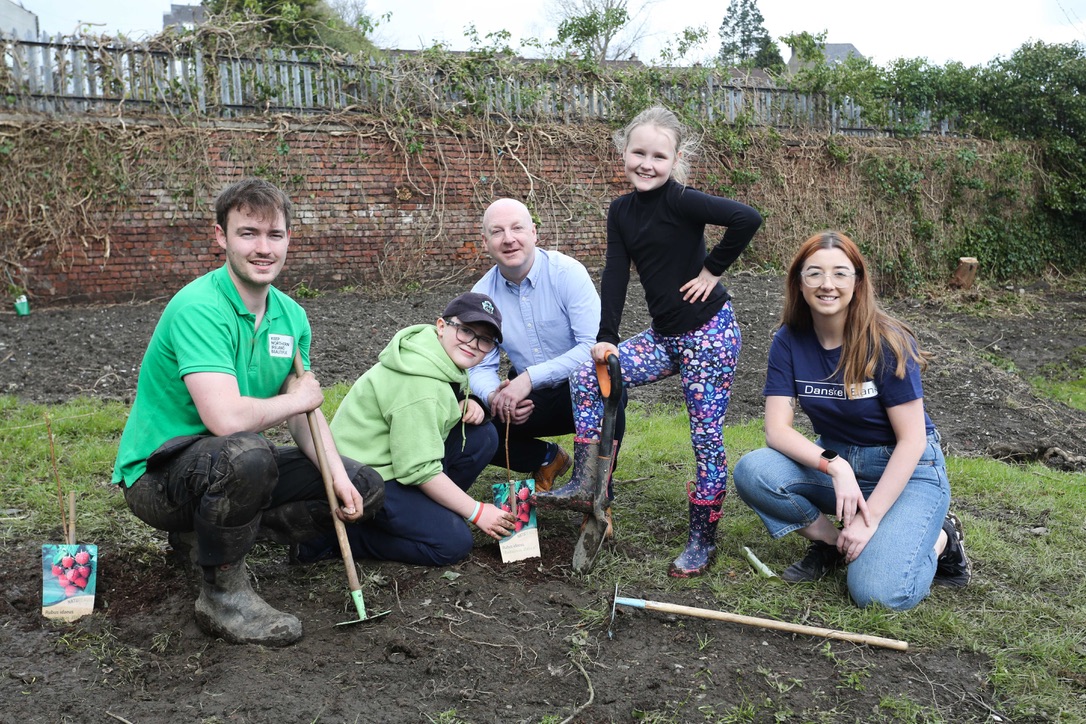 Pictured at Model Primary School in Derry, are Harry Murphy, Keep Northern Ireland Beautiful, Chris Martin, Head of Sustainability at Danske Bank, and Emma Butterfield, Danske Bank Foyle , with pupils Daithi Coyle and Aoife Harkin.