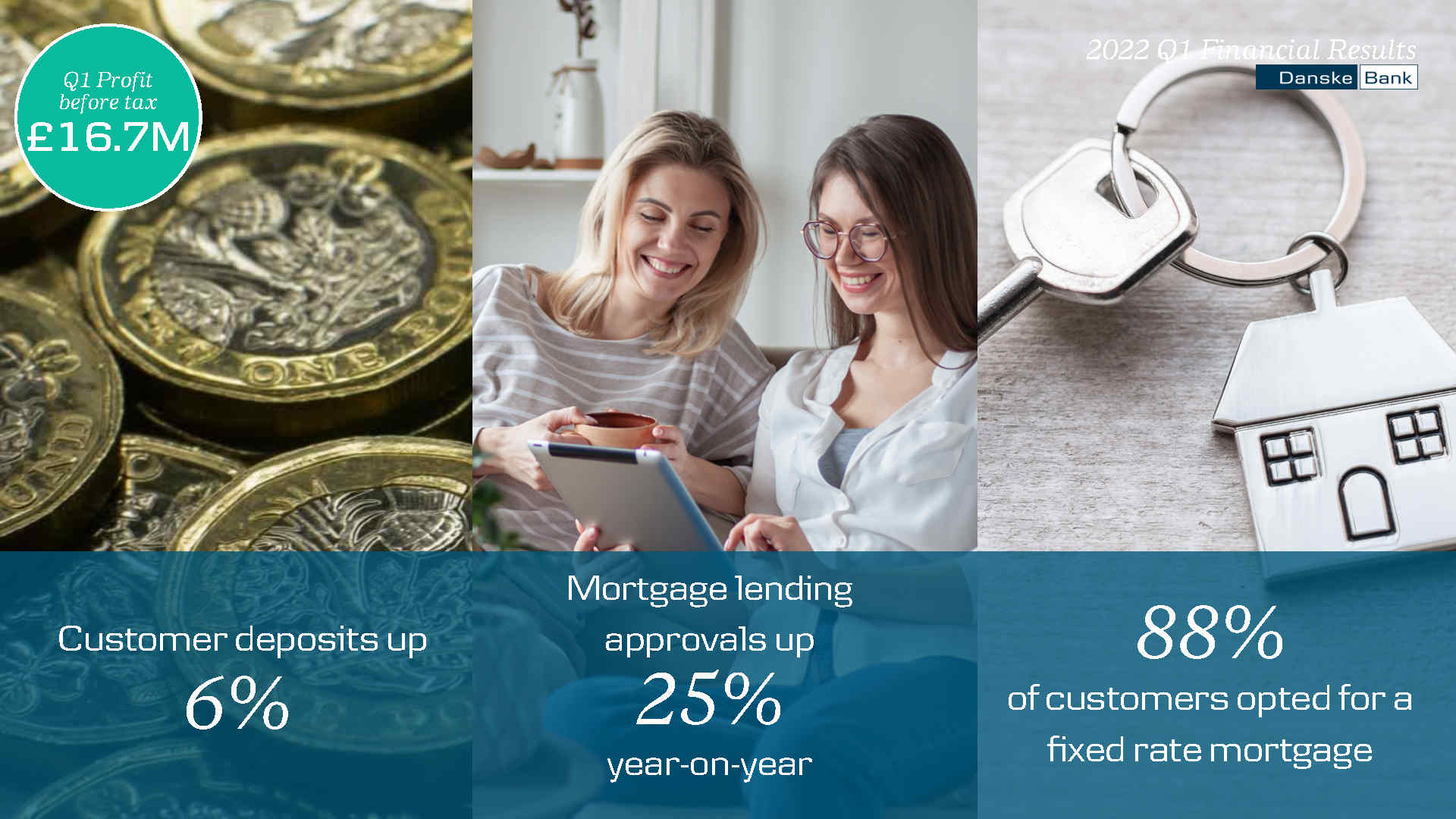 (GBP millions)
Q1
2022
Q1
2021
Index 22/21
Total income
53.5
47.0
114
Expenses
-34.7
-32.1
108
Profit before loan impairment charges
18.8
14.8
127
Loan impairments
-2.1
1.0
Profit before tax
16.7
15.8
105
Loans (end of period)
5,459
5,656
97
Deposits (end of period)
10,387m
9,793m
106
Operating profit is much- improved year-on-year because of a positive income performance, driven by increased transactional activity and higher UK interest rates.
Profit before tax is also up year-on-year, with impairment levels remaining low.
Vicky Davies, CEO of Danske Bank UK, commented:
"I am pleased to announce an improving set of results, as the Northern Ireland economy continues to grow.
"The housing market has remained buoyant in 2022 and successive Bank of England rate rises have not impacted transaction levels. Mortgage lending approvals at Danske Bank in Northern Ireland are up 25% year-on-year and in Q1 2022 88% of customers opted for a fixed rate product - providing certainty around future payments.
"More small-medium sized businesses have entered 2022 with increased confidence to invest in growth plans, having previously delayed these during the worst of the pandemic. Lending in this segment, excluding the government supported Bounce Back Loan Scheme, is up 36% year-on-year. Lending to larger businesses has, however, continued to be subdued due to many continuing to carry excess liquidity.
"Russia's invasion of Ukraine has introduced additional economic uncertainty – adding to existing challenges associated with the pandemic, Brexit, supply chain constraints and rising inflation. We continue to monitor these factors closely, in particular how our personal customers are being impacted by rising costs of living, and heightened cost burdens for business customers.
"We also remain focused on supporting the climate change agenda. We have the largest team of corporate and business banking relationship managers in Northern Ireland, and in Q1 2022 they all completed carbon literacy training accredited by the Carbon Literacy project. This upskilling complements our work to help business customers become more carbon literate through the Climate Action Programme we co-developed with Business in the Community. We have committed to supporting 60 local businesses through this programme by the end of the year.
"In a further development we launched a Danske Bank home energy saving tool on our website in partnership with the Energy Saving Trust, which allows homeowners to create a tailored action plan for improving the energy efficiency of their homes – to date this tool has been accessed by around 1000 people.
"Despite prevailing local and global economic challenges, we remain well positioned to continue to support our customers and the wider economy over the year ahead."
-ENDS-