The Belfast Mela is the largest celebration of cultural diversity on the island of Ireland attracting up to 30,000 people each year. ArtsEkta, the award-winning cultural charity which was set up by Nisha Tandon, OBE to run the Belfast Mela, is also responsible for running workshops, seminars and many creative projects across the year to develop intercultural relationships at the heart of Northern Ireland's various communities.
To launch the Friends of Belfast Mela initiative ArtsEkta's Executive Director, Nisha Tandon, OBE invited some of Mela's new corporate friends to join her in Botanic Gardens where the 13th Belfast Mela will be held on Sunday 25 August this year.
Nisha Tandon, OBE, Executive Director of ArtsEkta says: "Our Friends are forward thinking organisations who understand the benefits of a diverse society in driving success for their business objectives and enriching the lives of their employees who live and work here.
"So far 16 organisations have already pledged their support for our Friends initiative. I am now writing to the leaders of Northern Ireland's top 100 companies asking them to show their support and promote cultural diversity by becoming a Friend of the Belfast Mela. Our aim is to encourage many more businesses to join us, so we can continue to deliver our much-needed programme of outreach projects, events and training across the year which is transforming communities through shared creative experiences. But we still have a lot more work to do before Northern Ireland can truly claim to be a welcoming and inclusive place for all.
"We are so proud that Mela has grown to become one of the city's signature cultural events promoting Belfast as an open, inclusive and welcoming place to live and do business. It has never been more important that we embrace the individuality and cultural heritage of each citizen and find strength in our diversity."
Caroline Van Der Feltz, HR Director added: "The Belfast Mela has become a real success story and we want to be part of this huge summer celebration of cultural diversity. We are delighted to be supporting the event, further demonstrating our civic commitment to the city of Belfast and support for equality, diversity and inclusion."
Current Friends of Belfast Mela include: Danske Bank, Sensata Technologies; AllState, Belfast Harbour, Belfast International Airport, Business Eye, Co-ownership, Department of Finance & Personnel, Department of Justice, Equality Commission, First Trust, Hannon Travel, Olenick, Phoenix Natural Gas, Pinsent Masons LLP and U105. To show support for cultural diversity in Northern Ireland and assist the valuable work carried out by ArtsEkta visit their website.
The Belfast Mela is a bold, vibrant and colourful cultural celebration of music, dance, food and arts for all the family to enjoy together, which has truly captured the hearts of the Northern Ireland people. Belfast Mela 2019 takes place on Sunday 25 August from 12 noon to 6pm at Botanic Gardens.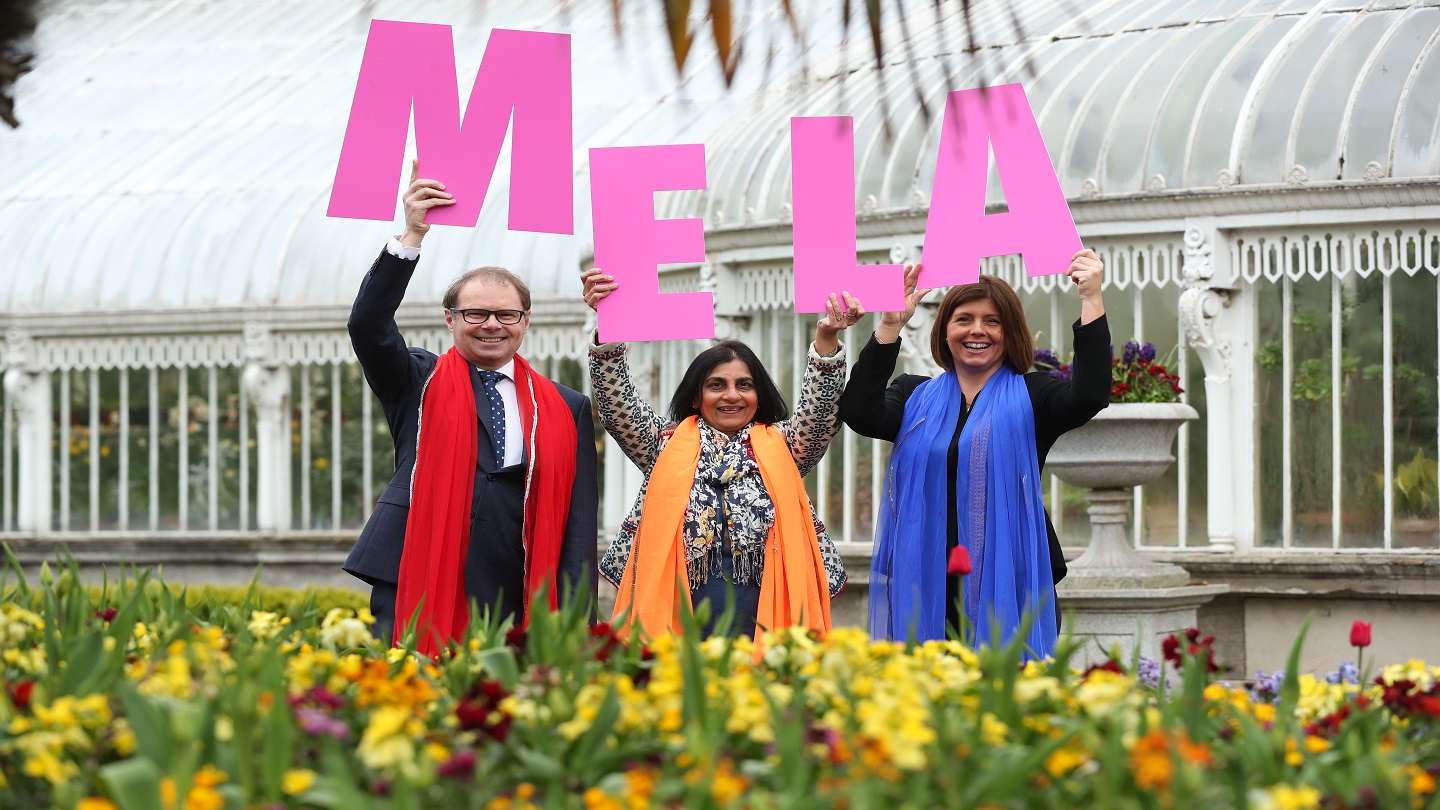 Pictured at Belfast Botanic Gardens are Richard Caldwell, Managing Director of Personal Banking and Small Business at Danske Bank, Nisha Tandon, OBE, Executive Director of ArtsEkta and Caroline Van Der Feltz, HR Director at Danske Bank.