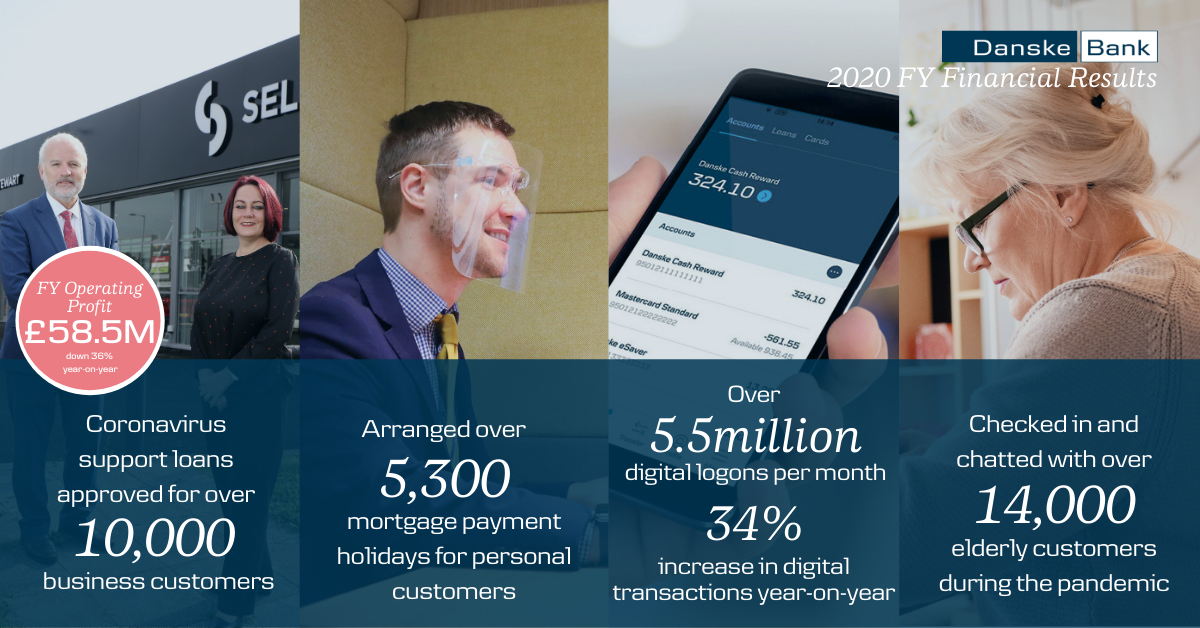 (GBP millions)
Full Yr
2020
Full Yr
2019
Index 20/19
Total income
203.2
233.2
87
Expenses
-144.7
-142.4
102
Profit before loan impairments
58.5
90.8
64
Loan impairments
-45.4
-0.8
Profit before tax
13.1
90.0
15
Loans (end of period)
5,622m
5,541m
101
Deposits (end of period)
9,626m
7,585m
127
Full year Operating Profit of £58.5million, down 36% compared to 2019.
Lending is up due to unprecedented levels of support given to business customers during the pandemic, alongside mortgage lending, which has remained at healthy levels.
Many personal and business customers have focused on paying off debt and holding cash, with deposit growth up 27% year-on-year.
Higher loan impairments allow for the potential that a greater number of customers will experience financial difficulties over the months ahead.
Kevin Kingston, CEO of Danske Bank UK, commented:
"Like many of our customers, Danske Bank has not been immune to the negative financial impacts of the coronavirus pandemic. Combined with a record low interest rate environment and Brexit uncertainty, 2020 proved to be a particularly challenging year.
"We adopted a 'force for good' strategy from the beginning of the pandemic and prioritised supporting our customers and looking after our colleagues, who, as key workers, have continued to provide reliable, trusted and responsive banking services for our personal and business customers.
Supporting Customers
"In Corporate & Business Banking we approved over £450 million worth of coronavirus related business support loans in 2020, with over £395 million of this volume provided through the Government backed Coronavirus Business Interruption Loan Scheme (CBILS), Coronavirus Large Business Interruption Loan Scheme (CLBILS) and Bounce Back Loan Scheme (BBLS). Our assistance spanned around 10,000 local business-funding approvals.
"Outside of the Government schemes our capacity to support new business lending remained strong, however demand for lending was subdued as a result of uncertainty around both the impact of the pandemic and the prolonged Brexit process.
"In Personal Banking, throughout the pandemic, all of our branches remained open, offering customers greater branch availability, in terms of opening hours, than any other local bank. We arranged over 5,300 mortgage repayment holidays, with a further 675 personal loans and credit card repayment holidays. In addition, in March, we removed the interest on all of our existing personal overdrafts for three months, benefiting up to 86,000 personal customers.
"The impact of the pandemic and associated lockdown restrictions meant that some people had to adapt quickly to doing their banking from the safety of their home rather than visiting their local branch. We set up dedicated phone lines for older people and healthcare workers, and we sent customers a Step-by-Step guide to banking from home, covering everything from how to get cash to using online banking for day-to-day needs.
"We also created a Plan Ahead guide outlining options for customers to allow someone they trust to help with their bank accounts, and a carer's account whereby a customer can allow a trusted friend or family member to withdraw cash or pay for goods without having to share their card details or PIN.
Digital
"Digital touchpoints already far outnumbered other customer interactions with the Bank, but the impacts of the pandemic, coupled with the continued investment in improving our digital proposition, has driven even greater customer adoption of our digital channels. In 2020, we saw around 5.5 million digital logons per month and a 34% increase in digital transactions year-on-year.
"In July, customer video meetings were launched across the branch network. Meetings can now happen in a socially distant way, while still maintaining a good connection between customers and colleagues. Over 1,500 customer video meetings had taken place by the end of the year.
Society
"Amongst our many societal initiatives in 2020, the most impactful was perhaps our 'Check In and Chat' programme that we launched at the beginning of the first lockdown in March – setting up a dedicated team to proactively call elderly customers for a chat and just to check on their general wellbeing. Many of these customers were self-isolating for a prolonged period. This activity then evolved from being delivered by a dedicated team to being part of our wider volunteering programme, open to all colleagues. I am very proud to say that by year-end we had contacted over 14,000 elderly customers across Northern Ireland and referred 600 of them to Age NI for extra support. This activity is continuing in 2021.
Looking ahead
"As we look ahead, it is clear that the challenges facing society and the Bank will be with us for some time. That said, the good news is that the local economy has avoided the implications of a no-deal Brexit, albeit there is still a lot of work to do in terms of embedding the new trading arrangements.
"In 2021, we will continue to prioritise supporting our customers, looking after our colleagues, tightly managing costs and seeking strategic growth opportunities where we can. These growth opportunities will include pursuing pockets of opportunity in the rest of the UK.
"The Bank will continue to play an integral role in supporting the local economy and we are committed to helping Northern Ireland grow again."