Northern Ireland's farmers and food producers need devolved government back in place and lobbying on their behalf to make sure the sector does not fall behind following the UK's exit from the EU next year, according to Danske Bank.
Danske Bank's Agri Economic Outlook Breakfast at Ten Square in Belfast heard that the agri sector is in generally good financial health, with a high percentage of farmers choosing to pay down debt and average incomes rising, particularly for dairy, pig and mixed-use farms.
However, the bank also noted that farmers are going about their daily business with no clear picture emerging as to where they will be in 12 months' time after Brexit regarding market access, exchange rates and subsidies/support payments, and this is holding back many farmers and agri-businesses from making large scale investments.
Danske Bank's Head of Agribusiness, Rodney Brown, said that famers and food businesses are trying to evaluate their business and plan ahead in the face of increased market volatility, Brexit uncertainty and a lack of clarity about how a far-reaching new Agriculture Bill will affect them.
He said: "The sector is generally in strong financial health, we have a lucrative domestic market and a growing demand for high quality food products which should provide further growth opportunities for Northern Ireland's farmers and food producers.
"However, the political vacuum at Stormont could be devastating for the industry as we need local Ministers in place to implement a tailored response to the new Agriculture Bill introduced by UK Environment Secretary Michael Gove last month. Unless we have devolved government back in Stormont to deal with local agriculture issues, decisions affecting the future of farming in Northern Ireland will be dealt with from Westminster and Northern Ireland farmers risk missing out."
He added: "The legislation is primarily concerned with achieving environmental sustainability, which is undoubtedly a good thing, but we can only have environmental sustainability if we have economic stability in the industry. Farmers are already dealing with a volatile market with peaks and troughs that are higher and quicker than seen previously, so the industry needs our political representatives to get behind them and support the common goal of a sustainable agri-food industry."
Mr Brown said a large number of farmers are now looking to de-risk their businesses through hedging or debt reduction, and others are using the current good conditions to innovate and drive further efficiencies. However, he said many still need to push ahead on issues such as land mobility and succession planning, particularly in light of likely changes in the support payments farmers currently receive from the EU.
"We are encouraging our customers review the viability of their businesses with 30 per cent less support, to make decisions about where they want to be in five years and plan their route there. If your business is underperforming, you may need to look at other income streams and opportunities to diversify. We know our local farmers and producers are extremely resilient and Danske Bank is committed to supporting them as they strive to succeed."
Delegates attending the event also heard from Danske Bank Chief Economist Conor Lambe, who said that the industry is likely to grow both this year and next year.
He said: "The UK and Northern Ireland economies are expected to grow in 2018 and 2019, but the rate of growth is likely to be subdued. Household spending power is gradually recovering, but with inflation still above the Bank of England's target, consumers remain under some pressure. There is no doubt that Brexit is making it hard to plan and this uncertainty has led some businesses to postpone making long-term, strategic investment decisions."
He added: "We expect the local agriculture, forestry and fishing sector to grow, but at a relatively low rate. We are projecting real GVA growth in the sector of 0.7 per cent in 2018 and 0.3 per cent in 2019. We also expect employment in the sector to grow by around 1 per cent this year, but only by 0.2 per cent next year.
"Uncertainty has been the watchword around Brexit for some time now. While it is hard to plan ahead without knowing exactly what Brexit will mean, businesses and farmers must now be thinking through the potential impacts for them. It's also important that they don't get Brexit fatigue as the process doesn't end in March 2019, it just moves on to the next phase."
Danske Bank's Head of Markets Brian Telford told the audience he did not anticipate a rise in interest rates before Brexit takes place but did flag the potential for a rise in global oil prices to filter through to costs for farmers and agri-businesses.
"Looking ahead at exchange rates, if we can maintain currency trading levels at or around the current levels, most businesses on either side of the equation will be able to trade through it. Weak Sterling rates have provided some benefit for export businesses in the agri-food industry over the past year but a weak pound over the longer term is not necessarily a great outcome as we import a significant amount of goods and materials."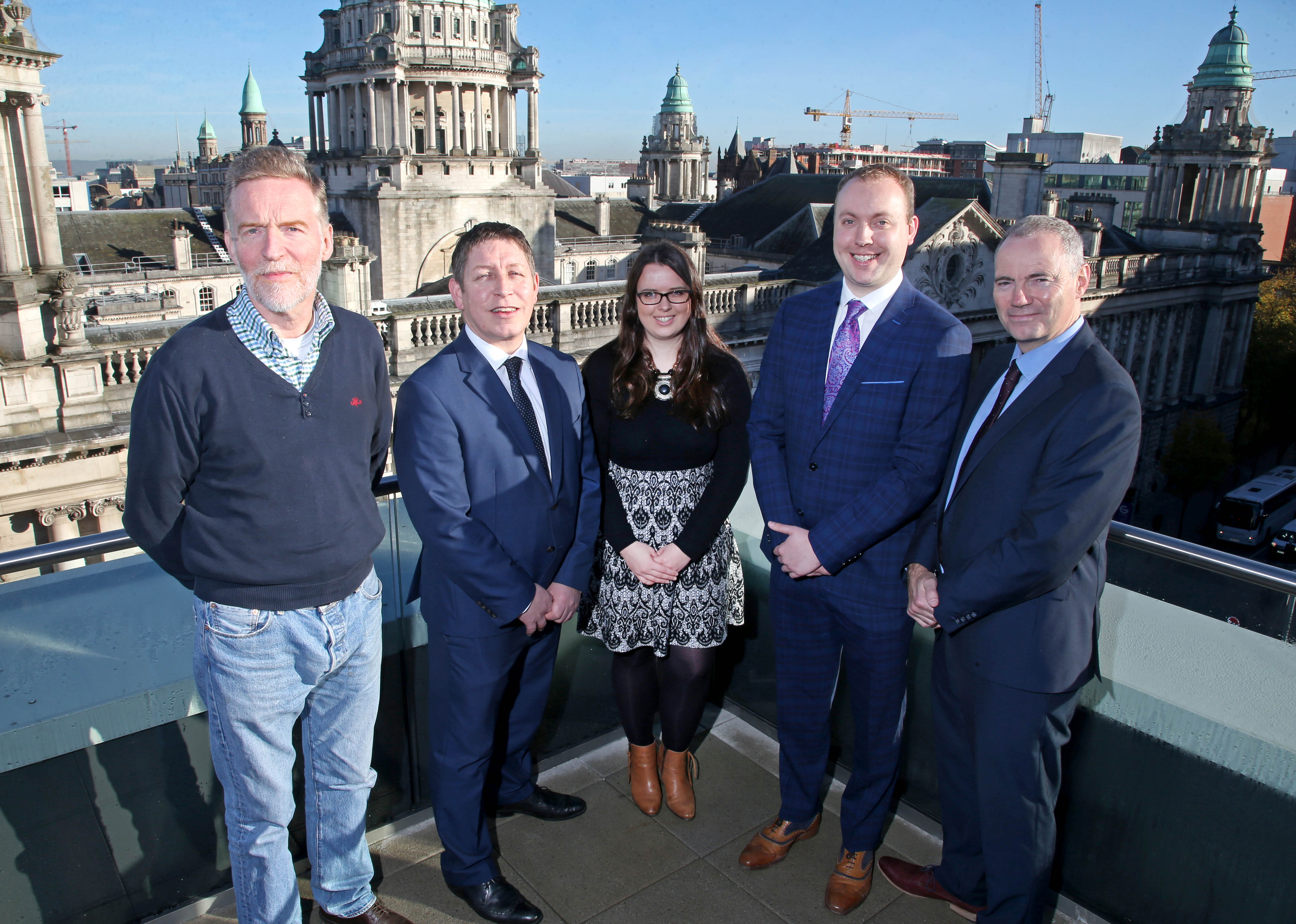 Pictured at the Danske Bank Agri Outlook 2018 breakfast event are Chairman of the Guild of Agricultural Journalists Richard Halleron, Danske Bank's Head of Agribusiness Rodney Brown, Guild Secretary Rachel Martin, Danske Bank Chief Economist Conor Lambe and Head of Markets Brian Telford.