Ways to bank with wearable devices
With Danske Bank you can make contactless payments using a range of wearable devices and smart watches, making it easy to pay for stuff without having to take out your wallet or go digging for cash or cards.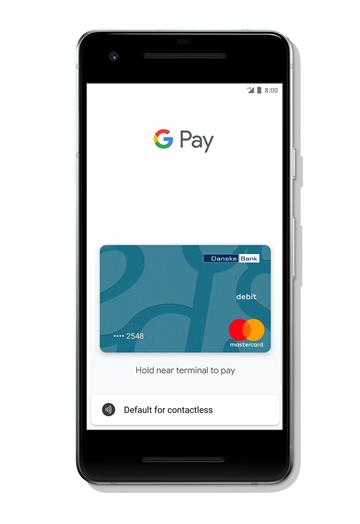 Google Pay™
A fast simple way to pay at millions of places – in store and online.
Accepted wordwide
Simple registration
Multiple layers of security
Apple Pay
You can now use Apple Pay with your Danske debit and/or credit card
No more getting cards out of your wallet or purse
Apple Pay is accepted at any contactless terminal in the UK
No card details are shared with either the retailer or Apple
Samsung Pay
With Samsung Pay, you can shop using your Galaxy smartphone virtually anywhere contactless is accepted.
No more getting cards out of your wallet or purse
Samsung Pay is accepted at any contactless terminal in the UK
Registration is simple
Fitbit Pay
Danske Bank is now offering Fitbit Pay with your Danske debit and/or credit card
No more getting cards out of your wallet or purse
Fitbit Pay is accepted at any contactless terminal in the UK
Upload up to 6 cards at any time
Registration is simple
No more getting cards out of your wallet or purse
Garmin Pay is accepted at any contactless terminal in the UK
Upload up to 6 cards at any time
Registration is simple