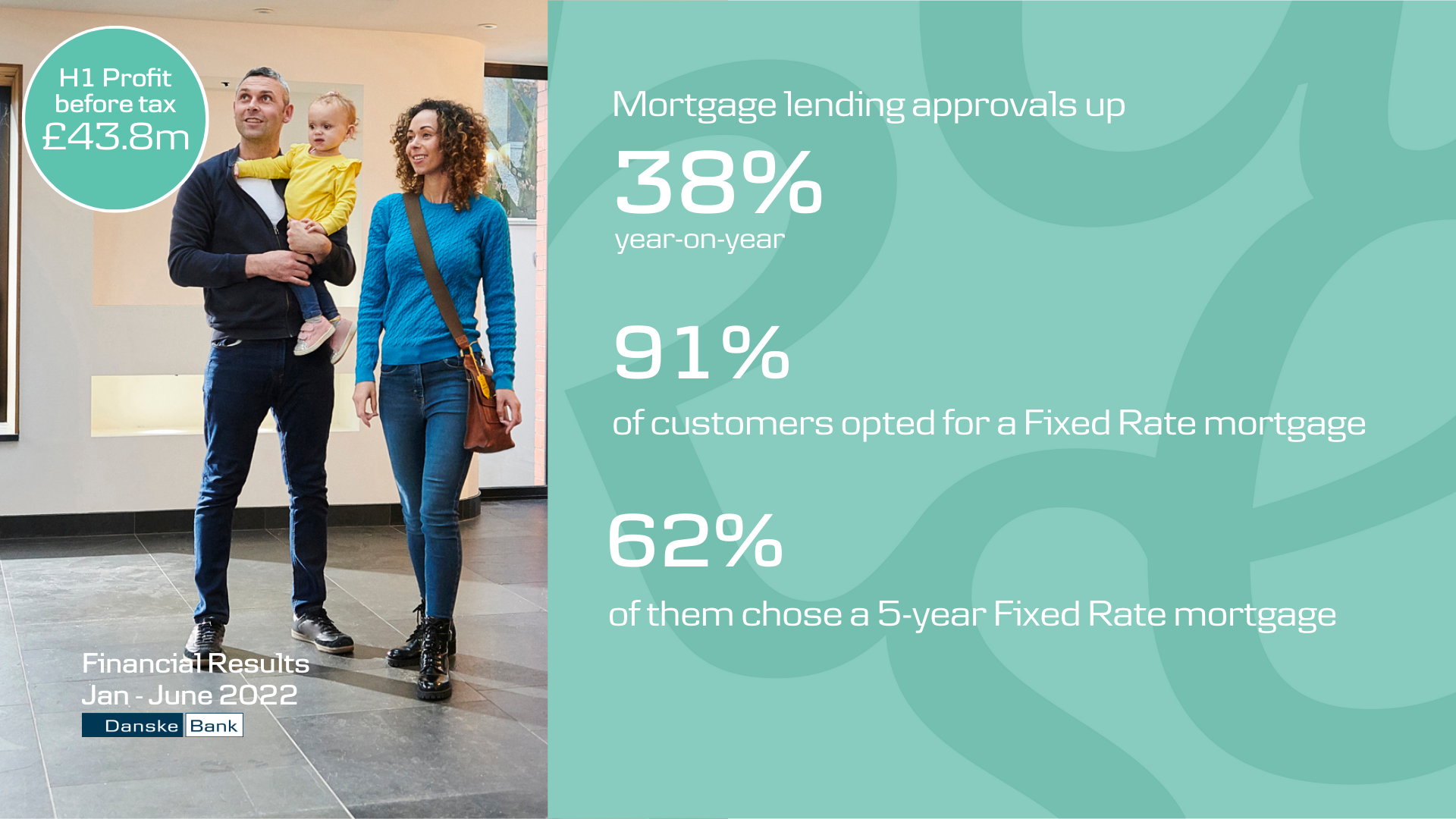 (GBP millions)
H1
2022
H1
2021
Index 22/21
Total income
118.9
96.8
123
Expenses
-70.7
-66.3
107
Profit before loan impairment charges
48.2
30.5
158
Loan impairments
-4.4
7.5
Profit before tax
43.8
38.1
115
Loans (end of period)
5,554
5,564
100
Deposits (end of period)
10,530
10,376
101
Profit is improved year-on-year, with a positive income performance driven by increased transactional activity and higher UK interest rates. Impairment levels remain low.
Record levels of deposit growth seen through the pandemic have levelled out, but deposit volumes remain high, providing the bank with capacity to support additional lending.
Vicky Davies, CEO of Danske Bank UK, said:
"In the first six months of 2022 we delivered a solid financial performance, with a profit before tax of £43.8 million.
"In response to inflationary pressures, the Bank of England raised interest rates during the first half of 2022 from 0.25% to 1.25%. UK inflation is at a multi-decade high and we expect interest rates will rise again in the second half of the year.
"Whilst we have seen continued economic recovery from the pandemic, the outlook for the UK remains uncertain, with higher inflation driving cost of living concerns. We are proactively contacting customers where we feel they may need assistance and we are encouraging any customers worried about how the cost of living may impact their finances to seek advice and to speak to us.
"Despite the economic challenges, transaction levels in the housing market remain at healthy levels, and the first six months of 2022 saw new mortgage lending approvals at Danske Bank in Northern Ireland up 38% year-on-year. 91% of customers opted for a fixed rate mortgage product, with 62% of them choosing a 5 year-fix.
"The first half of the year saw us support the business community in Northern Ireland through £454 million of business lending approvals.
"In May, we also became the first bank in the UK to create a digital solution that lets our business customers view all of their accounts and payments across multiple banks in one place. Through our online business banking platform, District, businesses can now get a full overview of their finances and gain a single point of entry to their accounts and transactions, including those of other banks that they may use, without the need to switch between banking platforms.
"Looking ahead, as Northern Ireland's biggest bank, we will continue to play a key role in supporting the wider economy and we remain resolute in our commitment to support customers through what will be increasingly challenging months ahead."
-ENDS-