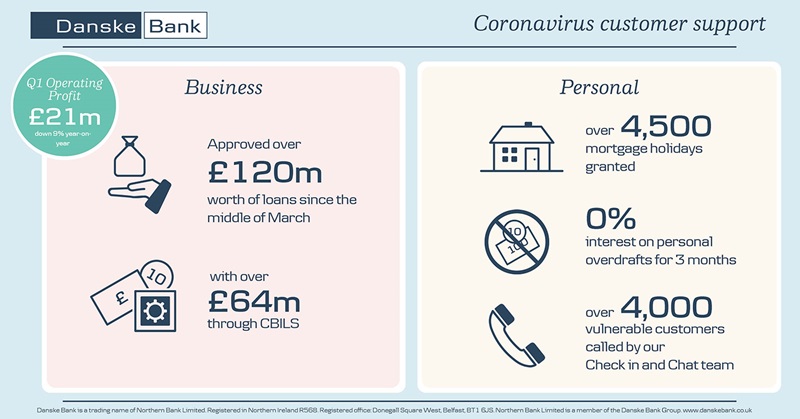 Operating profit of £21 million, down 9% year-on-year
Lending and deposits increased year-on-year
Income 4% lower year-on-year, driven by interest rate cuts and coronavirus disruption
Costs reduced by 1%
Provisions for potential future loan impairments
FINANCIAL RESULT (GBP millions)
Q1
2020
Q1
2019
Index 20/19
Total income
55.7
58.0
96
Expenses
-34.6
-34.9
99
Profit before loan impairments
21.1
23.1
91
Loan impairments
-19.7
1.6
Profit before tax
1.4
24.7
Loans (end of period)
5,540m
5,499m
101
Deposits (end of period)
7,643m
7,050m
108
Danske Bank in Northern Ireland reports an operating profit of £21.1m for the first quarter of 2020.
Total income is 4% lower, reflecting sharply reduced interest rates and the impact of coronavirus disruption.
Costs are down by 1% compared to the same period last year. This reflects continued efficiency improvements, partially offset by investment in improving customer solutions and additional costs incurred to support customers and colleagues in the current environment.
The economic outlook for 2020 is challenging and this is reflected in the provision for higher loan impairments, which allows for the expectation that a greater number of customers will experience financial difficulties in the months ahead.
As a result of the above, both operating profit and profit before tax have fallen compared to the same period last year.
Danske Bank maintains a very strong funding, liquidity and capital position and will use this capacity to support both personal and business customers through the current challenging times.
Commenting on the results, Danske Bank UK CEO Kevin Kingston, said:
"The first two months of the quarter were steady, with the mortgage market continuing to be healthy and business lending in line with expectations.
"Towards the end of the quarter the coronavirus disruption began and the Bank mobilised and reacted at pace to help our customers, colleagues and wider society. "I feel passionately that Danske Bank's role is to be a force for good both now and throughout the challenges ahead. Since the coronavirus disruption began to impact the economy at the end of quarter one, we have introduced a significant package of support measures.
Business customer support
"We have approved over £120 million worth of coronavirus related business support loans since the middle of March, with over £64 million of this volume provided through the Government backed Coronavirus Business Interruption Loan Scheme (CBILS). "Our volume of business lending during the crisis has been more than double the equivalent amount lent during the same period last year.
Personal customer support
"At the end of the quarter we announced the cancellation of interest on all of our existing personal overdrafts for a period of three months, benefiting up to 86,000 personal customers.
"We allowed mortgage customers, including customers who are residential buy-to-let landlords, to reduce or defer mortgage payments for up to three months. To date we have approved around 4,500 mortgage payment holidays.
Community support
"All Danske Bank branches across Northern Ireland remain open to support our customers; offering greater branch availability, in terms of opening hours, than any other local bank. The first hour of branch opening is set aside for vulnerable customers.
"Our award-winning local contact centre has also remained fully operational throughout the crisis, answering an increased volume of customer calls efficiently – with an average call wait time of around 20 seconds over the past three weeks. "Exclusive hotlines into our contact centre have been set up for vulnerable customers and health service workers.
"We set up a 'Check in and Chat' team, which has been proactively calling elderly customers during the coronavirus crisis to check on their general wellbeing and see if we can help in any way, for example connecting them with outreach organisations like Age NI. To date the team has made over 4,000 calls."
Mr Kingston concluded:
"As the biggest bank in Northern Ireland, be assured that Danske Bank has the commitment and the capacity to continue to support customers, the community and the wider economy through these troubled times."
ENDS
For more information about Danske Bank Group's financial statements, please go to www.danskebank.com/reports