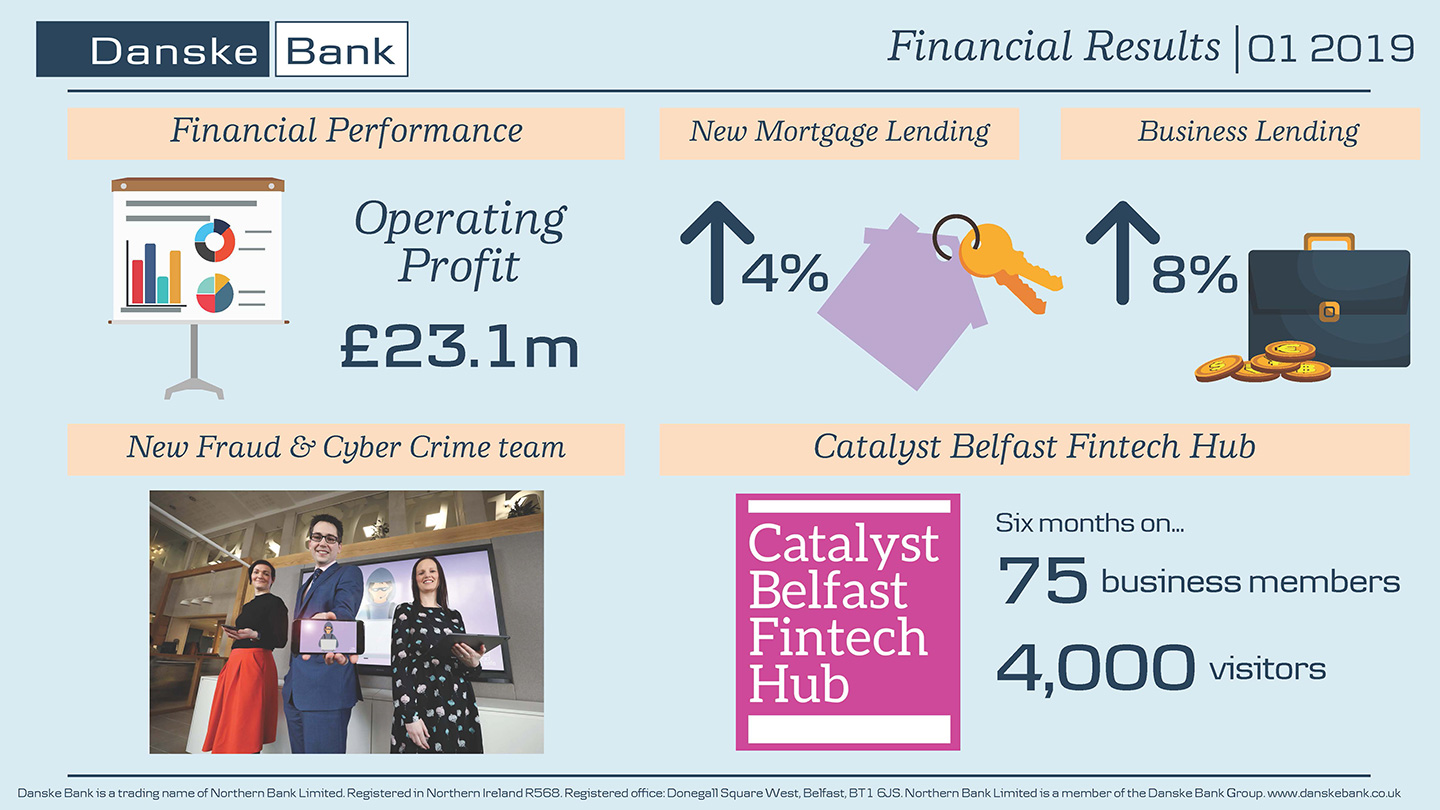 Operating profit of £23.1 million, up 3% year-on-year
Business lending up 8% year-on-year
New mortgage lending up 4% year-on-year
| FINANCIAL RESULT (GBP millions) | 2019 | 2018 | Index 19/18 |
| --- | --- | --- | --- |
| Total income | 58.0 | 56.6 | 103 |
| Expenses | -34.9 | -34.3 | 102 |
| Profit before loan impairments | 23.1 | 22.4 | 103 |
| Loan impairments | 1.6 | -7.3 | |
| Profit before tax | 24.7 | 15.1 | 163 |
| Loans (end of period) | 5,499m | 5,115m | 108 |
| Deposits (end of period) | 7,051m | 6,663m | 106 |
Danske Bank in Northern Ireland reports a profit before impairments of £23.1 million for the first quarter of 2019. Lending volumes are 8% higher year-on-year and deposits grew by 6%.
Total income is 3% higher reflecting the growth in lending and deposits, and higher UK interest rates.
Costs are 2% higher, given ongoing investment in new customer solutions and skills designed to ensure the Bank fully meets customer needs and expectations.
There was a 3% increase in profit before impairment charges. Profit before tax was significantly higher year-on-year, reflecting net impairment recoveries for the quarter compared to a net charge in the same period last year.
Danske Bank continues to have capacity to support further lending growth as demonstrated by a loan to deposit ratio of 78% as at March 2019.
Commenting on the results, Danske Bank UK CEO Kevin Kingston said:
"I am pleased to report an operating profit of £23.1 million for the first quarter of 2019. The underlying performance of the Bank continues to be strong, with lending volumes up 8% year-on-year.
"In Personal Banking, we have seen a 4% uplift in new mortgage lending compared to the same period last year. Our mortgage product proposition was further improved during the quarter with an increased cash back offer to encourage more switchers.
"Lending in Business Banking is up 8% year-on-year, as we continue to focus on improving already high levels of customer satisfaction. Lending during the quarter has been predominantly to existing business customers, many of whom are pursuing growth ambitions and others who have wanted to extend their facilities with us to ensure they are prepared for any economic challenges that could be associated with the Brexit process.
"In the Corporate segment lending is down compared to the same period last year, with the heightened uncertainty around Brexit during quarter one persuading some of our larger customers to delay planned investments until later in the year.
"Good customer experience means looking after customers to the best of our abilities, every single day. In that spirit, and in line with customer needs, we have introduced a dedicated fraud and cyber crime team based in Belfast. The new team brings together expertise in card, ATM, cheque and payment fraud. All banks are seeing a rise in attacks, with people tricked into revealing personal details or having their information stolen. We believe it is essential for our customers to understand the risks and be able to talk directly to experts if they are targeted by a scam. The new team will have a focus on being there for our customers when they need us and supporting colleagues in their interactions with both personal and business customers.
"It is just over 6 months since we launched Northern Ireland's only dedicated fintech co-working space developed in partnership with Catalyst. Based on the ground floor of our head office, the Catalyst Belfast Fintech Hub provides 24/7 access for members and features dedicated office rooms, permanent desks, hot desking spaces, a break out coffee area and one of Belfast's more unique events spaces for up to 50 people, located inside a former safe. The Hub currently accommodates 75 business members, and interest is growing as the centre's reputation becomes more established. It is also a community space and we estimate that over 4,000 people have attended events in it since it opened.
"Despite the obvious Brexit-related challenges, as Northern Ireland's biggest bank we believe we are well positioned to continue to make more possible for our customers in the year ahead and we remain resolute in our determination to support the local economy."
ENDS
For more information about Danske Bank Group's financial statements, please go to www.danskebank.com/reports