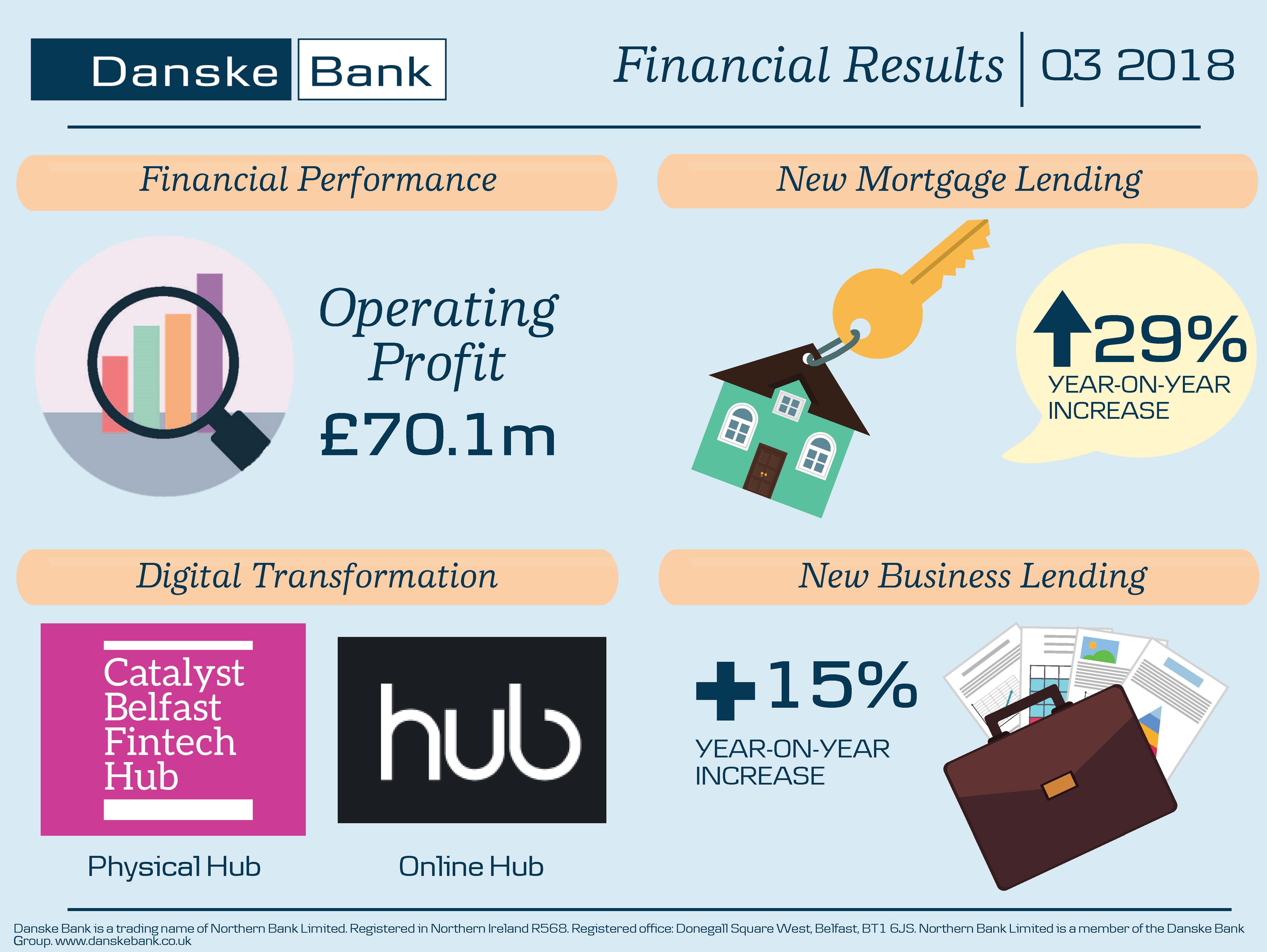 New mortgage lending up 29% year-on-year
New business lending up 15% year-on-year
Operating profit up 13% year-on-year
Lending up 8% year-on-year
FINANCIAL RESULT (GBP millions)
YTD
2018
YTD
2017
Index 18/17
Total income
175.4
169.0
104
Expenses
-105.3
-107.0
98
Profit before loan impairments
70.1
62.0
113
Loan impairments
-3.1
18.1
Profit before tax
67.0
80.1
84
Loans (end of period)
5,294m
4,885m
108
Deposits (end of period)
6,987m
6,624m
105
Danske Bank in Northern Ireland reports a profit before impairments of £70.1million for the nine months to the end of September 2018.
Total income has increased 4% compared to the same period last year. This reflects balance sheet growth - with lending 8% higher year-on-year, deposits up 5%, and higher UK interest rates.
Restructuring initiatives completed in 2017 enabled increased investment in new technology and customer solutions, whilst also supporting a net reduction in overall operating costs.
The combination of higher income and lower costs delivered a 13% increase in profit before impairment charges.
Profit before tax reduced year-on-year, reflecting net loan impairment charges over the nine months compared to the net recoveries reported in recent years.
Danske Bank continues to have capacity to support further lending growth as demonstrated by a loan to deposit ratio of 76% as of September 2018.
Commenting on the results, Danske Bank UK CEO Kevin Kingston said:
"We continue to make good progress, resulting in an operating profit of £70.1 million for the first nine months of 2018. The underlying performance of the Bank is strong, with lending up 8% year-on-year. In Personal Banking it has been a record nine months for our mortgage business, with new mortgage lending up 29% year-on-year. In the Northern Ireland mortgage market, the latest research indicates that Danske Bank is now providing 1 in 4 first time buyer mortgages, and 1 in 5 of all mortgages."
"In August we completed a major refurbishment of our flagship Belfast city centre branch. The branch has been redesigned with a new look, a new layout and improved services that we believe will better meet the needs and expectations of personal and business customers."
"With regards to support for business customers, lending is up 15% compared to the same period in 2017. We are pleased to be piloting and rolling out digital credit decisions in this segment. This has been very well received so far, transforming the credit journey for both business customers and our business relationship managers. In most cases credit decisions using the digital facility are being made in minutes, as opposed to days."
"In September we opened our new fintech hub space on the ground floor of our Belfast headquarters. Catalyst Belfast Fintech Hub, run in partnership with Catalyst Inc, is a stunning, modern incubator and hub that is open 24 hours a day and will see dozens of entrepreneurs and start-up businesses shape and craft their ideas. This is about backing Belfast and in particular backing a burgeoning sector with great potential. The fintech sector is often seen as a challenger to traditional banks, but we are embracing it and feel we can grow with it, to the benefit of our customers."
"Together Danske Bank and Catalyst Inc have also launched a new online platform to help the wider growing number of start-up businesses across Northern Ireland. Our aspiration is that thehub.io will help connect start-ups to relevant resources, such as talent, networks, financing, tools and advice from experts which will help them overcome some of the challenges of scaling up."
"As the biggest bank in Northern Ireland we are focused on making more possible for customers and society, while continuing to play an integral role in supporting the local economy."
ENDS
For more information about Danske Bank Group's financial statements, please go to www.danskebank.com/reports