Over 150 of Northern Ireland's leading Chartered Accountants will fly to Madrid this week for a Conference examining the future of UK and EU trading relations.
The Positive Thinking: Leadership for a New Reality Conference in the Spanish capital, organised by Chartered Accountants Ulster Society and supported by Danske Bank, will take place from 2nd to 5th May.
The Conference will consider the prospect of business development between Northern Ireland and the EU and will feature speakers from companies which successfully trade in Spain, Portugal and Latin America.
Speakers at the Positive Thinking Conference will include Danish Economist Lars Christensen, Editor in chief of Euroinvestor; Tom McIlduff of Liberty Seguros; Peter McKenzie of Anticipa Real Estate; John Scade of MAS Business; David Radley-Searle of Grant Thornton Madrid; Emma Naismith, Manager of Invest NI's recently established office in Madrid; and Oonagh Murtagh of Danske Bank.
The Conference will discuss possible Brexit scenarios and examine what business leaders can do during this extended negotiation period to ensure that local businesses are in a position to thrive.
Richard Gillan, Chairman of Chartered Accountants Ulster Society, said: "We're delighted to be bringing a sell-out audience of business leaders to Madrid for what will be a fascinating Conference and an important networking opportunity for our members.
"Over the last couple of years Brexit has dominated both the political and the business agenda. I think it's fair to say that a great deal of the debate has been negative. After all that negativity it's time to have some positive thinking, showing what leaders can do to help business continue to thrive in a new trading reality.
"We have an opportunity to hear first-hand about the current climate for business and investment in the EU. Whatever the outcome of Brexit, trading links with the EU will continue to be important and it's up to business leaders to continue to find ways to reach out positively to do business in Europe.
"We are delighted to continue our partnership with Danske Bank and very thankful for their input in shaping this event. Our partnership with Danske Bank stretches back to 2001, covering conferences in cities such as New York, Washington DC, Lisbon, Chicago, Munich, Toronto, Copenhagen, Barcelona, Boston and Amsterdam. It's a partnership which is integral to the success of our Conferences."
Shaun McAnee, Managing Director of Corporate and Business Banking, Danske Bank, said: "Danske Bank has had a long association with Chartered Accountants Ulster Society and we are very proud of this ongoing relationship. Our teams across the bank continue to work closely with the accounting profession and recognise the pivotal role it plays in the development of the Northern Ireland economy.

"We are committed to playing our part in that development by supporting our customers as they make important decisions on investment and expansion and, of course, as they plan for the challenges Brexit will undoubtedly bring. We look forward to gaining fresh insights and inspiration from the Positive Thinking conference that will benefit our customers, in particular those who are already trading with the EU or would like to do so in the new, post-Brexit environment."

Part of the Conference will take place in the world famous Santiago Bernabéu Stadium, home of Real Madrid C.F.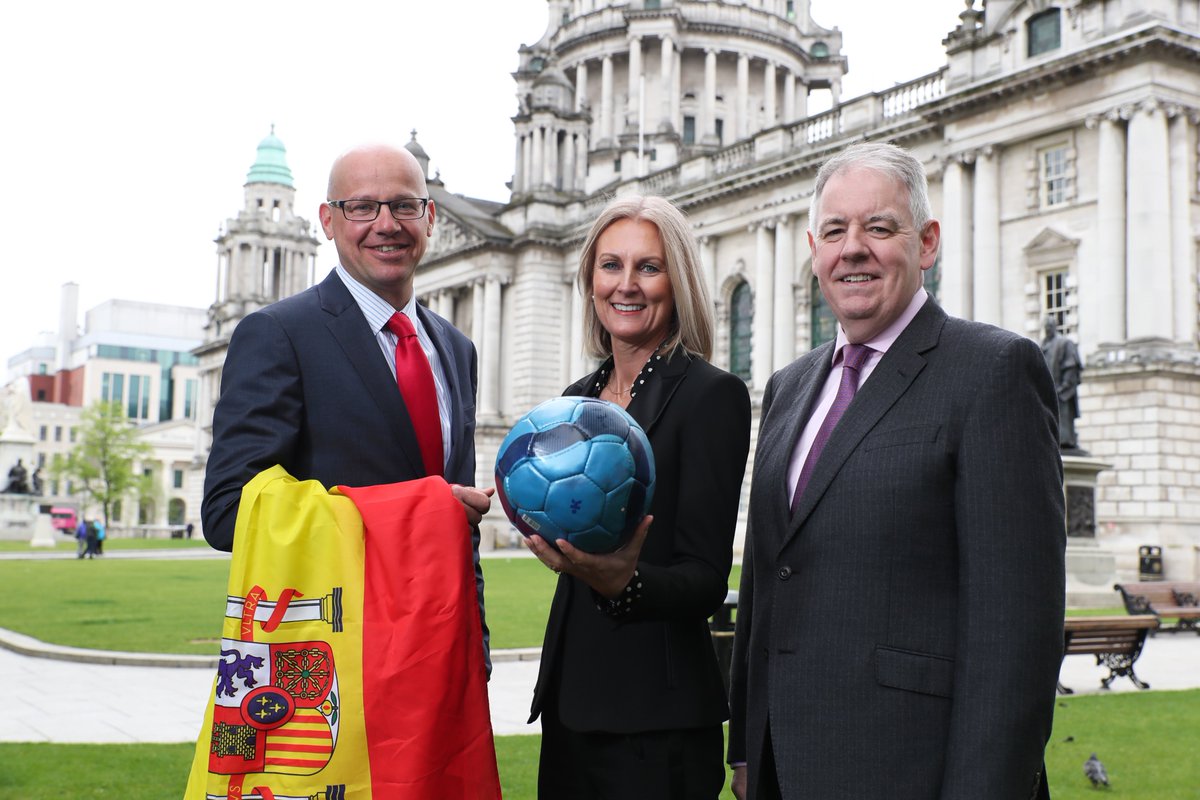 Pictured ahead of the Madrid Conference are Richard Gillan, Chairman, Chartered Accountants Ulster Society; Zara Duffy, Head of Chartered Accountants Northern Ireland; and Shaun McAnee of Danske Bank.