Danske Bank scooped four awards at Business in the Community's 2019 Responsible Business Awards, held in the International Convention Centre in Belfast on Thursday 30 May.
The Bank won awards in three categories: Diversity and Inclusion, Wellbeing at Work and Responsible Digital Innovation, as well as being presented with the top award on the night - NI Responsible Company of the Year 2019.
More than 600 business people from across Northern Ireland attended the annual glittering gala dinner to see Northern Ireland's leading responsible companies recognised for outstanding contributions to their people, the planet and the places where they operate.
Kevin Kingston, Chief Executive, Danske Bank, said:
"It is an absolute honour to be named Responsible Company of the Year by Business in the Community. Responsibility is embedded right at the heart of our business strategy. For us, it's about focusing our time and effort on where we can make positive societal impacts and we do this through a wide range of initiatives and partnerships right across Northern Ireland.
"We are grateful for the contribution our societal partners have made in helping us achieve our goals in the last year. Most importantly, this award is testament to the calibre and dedication of our people – my Danske Bank colleagues, whose commitment to making more possible makes me proud every day."
Kieran Harding, Managing Director, Business in the Community said:
"I would like to take this opportunity to congratulate each and every one of our winners, and those who were highly commended and shortlisted, for leading the way in responsible business practice. The standard for entries was phenomenally high and I hope that the achievements of the companies recognised will inspire others on their responsible business journey.
"Business in the Community is proud to be celebrating our thirtieth anniversary in Northern Ireland, working with some of the most innovative and responsible businesses, and these annual awards are a way for us to showcase and thank those organisations across NI that are taking responsible business action."
The Diversity and Inclusion Award, sponsored by Legal Island, was awarded to Danske Bank for an impressive business-wide approach to Diversity and Inclusion that focuses on both employees and customers. An extensive Customer Experience Learning Programme has resulted in staff being equipped to better support customers in vulnerable circumstances, and the Supporting Working Families initiative has introduced a Grandparents Leave Policy, offering paid leave that enables grandparents to help their family.
The Wellbeing at Work Award, sponsored by Larne Port, was awarded to the bank for an outstanding commitment to social inclusion, serving the community and its work growing talent within the organisation. The judges noted that Danske Bank was able to demonstrate that it valued employee wellbeing for reasons beyond business results.
The judges found that Danske Bank was a clear winner in the Responsible Digital Innovation Award category, sponsored by Ciena, with the company endeavouring to keep ahead of the game when it comes to digital integration and transformation, whilst maintaining a human touch to all online activities. The bank provides digital training and engagement opportunities for all employees, enabling them to more effectively support their customers and the community, and it has launched a digital hub for startup businesses in Belfast city centre.
The evening's top prize – NI Responsible Company of the Year – sponsored by Heron Bros., was presented to Danske Bank for demonstrating the implementation of a wide range of successful corporate responsibility initiatives that strategically address key issues and challenges in a way that creates value for both society and the business.
The awards celebrate organisations that are making a difference by taking action to address pressing social and environmental issues – transforming communities and changing lives.
This year, the theme of the evening was environmental sustainability. Keynote speaker, and international humanitarian, Linda Cruse spoke about her experience working alongside some of the world's most influential figures, companies and foundations to help find solutions to some of the world's most critical social and environmental problems. Her passionate account of working on the frontline challenged guests to think about their own contribution to making the world a better place.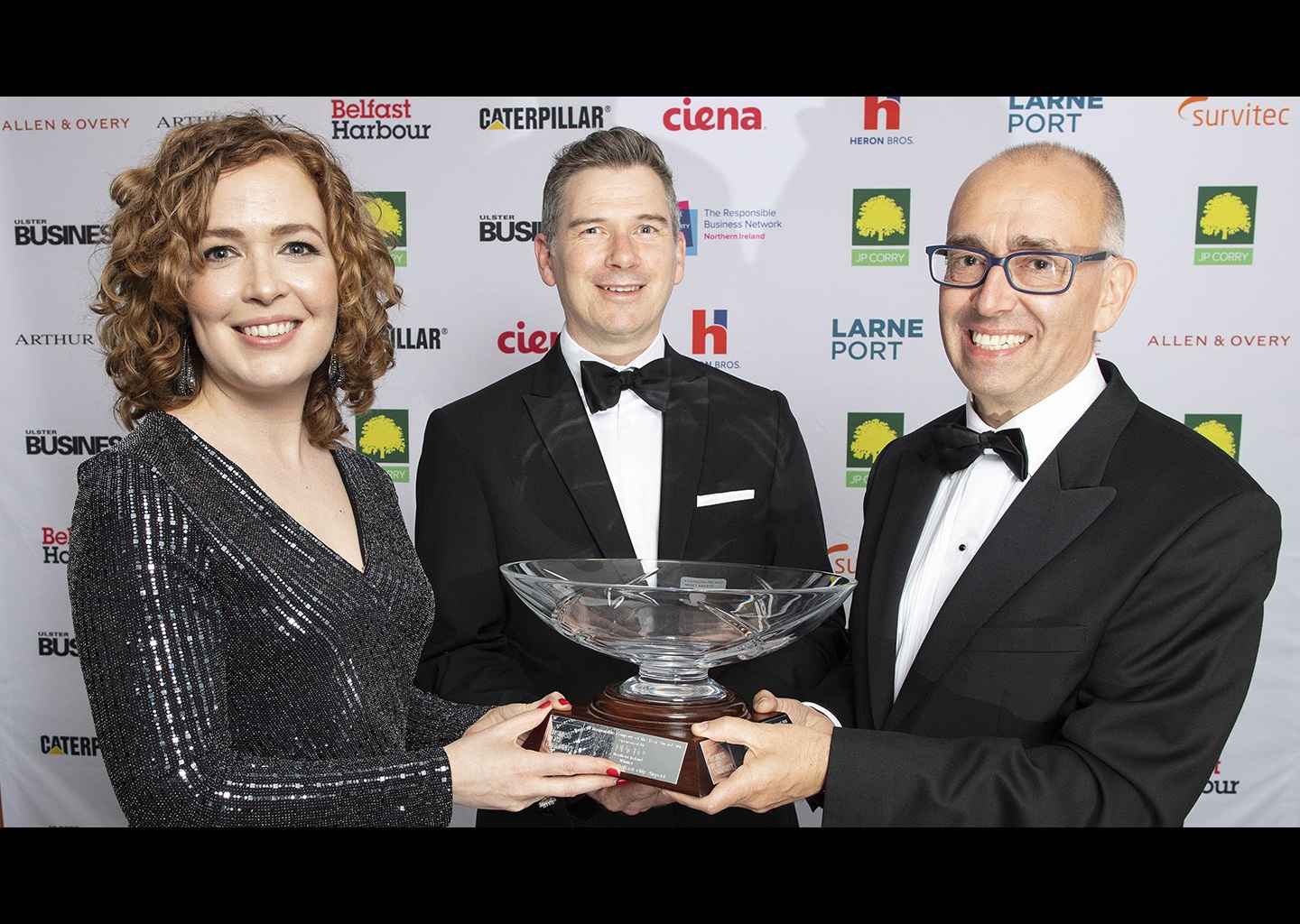 Lisa McIlvenna, Deputy Managing Director at Business in the Community Northern Ireland and Noel Mullan, Commercial Director at Heron Bros Ltd. present Danske Bank Chief Executive, Kevin Kingston, with the Responsible Company of the Year Award.