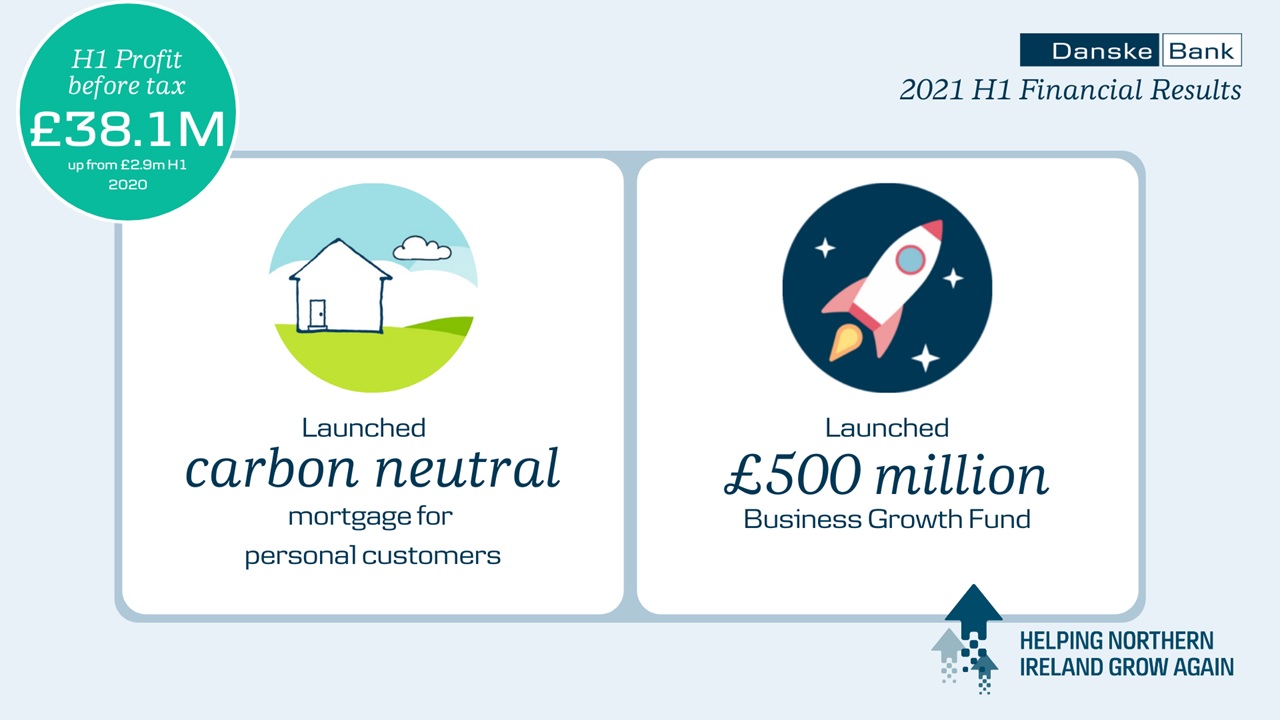 (GBP millions)
H1
2021
H1
2020
Index 21/20
Total income
96.8
102.7
94
Expenses
-66.3
-70.0
95
Profit before loan impairments
30.5
32.7
93
Loan impairments
7.5
-29.8
Profit before tax
38.1
2.9


Loans (end of period)
5,564m
5,507m
101
Deposits (end of period)
10,376m
8,600m
121
Profit before tax is £38.1 million, up from £2.9 million in H1 2020.
Given Government economic support measures and an improved economic outlook, loan impairment provisions continue to be reduced.
Many personal and business customers continue to pay off debt and hold savings, with deposit balances up 21% year-on-year.
Kevin Kingston, CEO of Danske Bank UK, commented:
"We continue to move forward with growing optimism, ensuring Danske Bank is playing a key role in the economic recovery and helping Northern Ireland grow again.
"In March we announced the creation of a £500 million business growth fund targeted at medium- large sized businesses. The fund is in place for both existing business customers and businesses who are currently with other banks but who are open to moving their banking relationship to Danske Bank. New business customers who borrow from the fund will benefit from removal of the cost of switching through no arrangement, valuation or legal fees, as well as a 75% transactional fee discount for six months.
"In Personal Banking, the housing market has remained robust with demand from prospective buyers at healthy levels. In quarter one we became one of the first banks in the UK to re-introduce a 95% loan to value mortgage product. In quarter two, we followed up with the introduction of the UK's first mortgage product to be certified as carbon neutral by the Carbon Trust. The Carbon Trust measured the carbon footprint of providing the mortgage, which includes the emissions generated throughout the mortgage lifecycle. Physical paperwork forms the largest part of that footprint, but other activities taken into account include energy consumption in our offices, digital paperwork at each stage, paper waste generation and a welcome box provided to first time buyers.
"To achieve carbon neutrality for our mortgage service, we have committed to keep reducing this local carbon footprint yearly and to offset any remaining emissions by investing in projects that reduce emissions by the same amount as those generated by providing our mortgages. We are working with carbon reduction specialists ClimateCare to offset the environmental impact of the mortgage by supporting wind energy projects in India. It is our most competitively priced mortgage, offering up to £2,000 cashback.
"We have also been helping the wider business community by creating a Climate Action Programme in partnership with Business in the Community. Carbon literacy training is just part of the four month programme that several Northern Ireland based businesses are taking part in to help them understand climate change causes and consequences. Through it, they are also learning how to measure their own carbon footprint, mitigate their climate impact and ultimately commit to taking action.
"As leaders globally, nationally and locally unite to build back better from the pandemic, the banking sector must play its part, and in Northern Ireland Danske Bank is fully committed to this goal.
"In September I will be retiring and making way for a new chief executive. It has been my privilege and honour to lead the Bank over the past six years and to work with so many inspirational colleagues. I know that the incoming chief executive, Vicky Davies, and our strong local management team, will continue to prioritise customer experience, growing the business for the future and building back better."