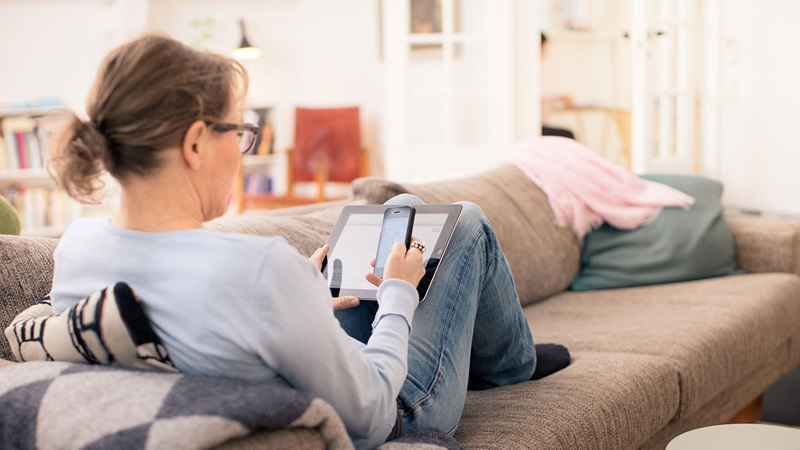 Budgeting
Some tips on managing your money
As many of us are beginning to feel the pinch financially, it can be helpful to look at how much money comes in each month and how much goes out.
You may be able to identify areas to cut back on and subscriptions you can cancel. Even changing the dates of regular payments to coincide with payday helps, as you'll have a better handle on what your disposable income looks like for the rest of the month.
Budget calculator
Our budget calculator can help you to review your spending. Doing this on a regular basis can help you to budget more effectively, spot unnecessary costs and understand how much you could put aside for any unexpected events in the future.
If you want to take this a step further, our friends at MoneyHelper have some useful tools to help prioritise your bills

and how to budget for an irregular income if you don't have a consistent monthly wage

.
Our Top 10 Budgeting Tips
Use our tools

Spending overview See what you're spending and where with the Spending Overview tool, available on eBanking and on the Mobile Bank app. It automatically groups your outgoings into categories like housing or transport, to give you an overview of your spend and income across recent days, months, or in the past year.
24/7 Digital Banking As well as eBanking and our Mobile Bank app, you can also stay in control of your money with text and email alerts. We can text you if you go into an arranged or unarranged overdraft, keep you up to date with your bank balance and help you avoid missing payments (and avoid unnecessary charges).

When you're creating a budget, there are a few things to consider. Look out for expenses or payments that aren't monthly, such as weekly or annual and work their monthly equivalent into your budget.
Identify unnecessary expenses and subscriptions that could be cancelled – like paid-for TV packages, music subscriptions and unused gym memberships. If you think you can let a few of them go for the time being, check your obligations under the contract. Although many are 'pay as you go' per month, you may be tied in for longer with others. When you're sure you want to stop, always check with the provider first before trying to cancel any payments.
Change regular payments to match your payday

This simple change can make a big difference. If you can get your regular payments - rent or mortgage, car insurance, phone bill – to come out of your account the day you get paid, then it's much easier to budget with what's left.

To change the date of a standing order yourself, log on to desktop eBanking>Pay & transfer>View and amend Direct Debits/Standing Orders
To change the date of a standing order for a Danske Bank loan or mortgage, send us a message in eBanking or the app or phone us.
To change the date of a Direct Debit, you'll need to speak to the company that set it up. You may not be able to get it exactly on the date you want, but the closer to payday the better. You can also delete it altogether in eBanking, but make sure you don't owe the payee anything first!
Cancelled payment but it's still coming out? In some cases (for example, if you have Netflix, Now TV or Amazon Prime) you may have set up something called a 'continuous payment authority' instead of a Direct Debit. This means that the regular payment comes off your card instead of directly out of your account. Why does it matter? It means that even if you think the payment has stopped - for example if you get a replacement, the payment will keep coming out! To cancel or ask us about one of these, send us a message or phone us.
Regularly review your budget and adjust it if necessary
Regularly check your bank account to make sure you're on track and haven't overlooked any payments
Are you getting the best deal? Whether it's on your groceries, insurance or gas, it may be worth shopping around for a better deal. You may save some money!
Consider repaying debt early if this is an option

If you have debt with Danske Bank, or other organisations, it's worth asking if you can repay debt early, saving interest in the long term. You may also want to think about consolidating all your debts into one, manageable payment.

Consider trying to save a manageable amount of money each month to have a back-up for emergencies. Treat it like a bill and set up a standing order so it is non-negotiable. Set an overall savings goal to keep you focused or set yourself a target total to be met by a certain date.
Look after your mental health too

We know that financial matters don't just affect your finances; it can be a worrying time if you're feeling under pressure. Our charity partner AWARE NI are a dedicated depression charity with a number of options available to help you overcome mental difficulties. You may also find the Money and Mental Health Policy Institute to be a source of support if your finances are affecting your mental health, or vice versa.
Other help with budgeting
Are you entitled to additional income support?
You can check whether you're entitled to additional financial support from the government on the NI Direct Benefits Calculator

.
It depends on your income and circumstances.
If you're on certain income-related benefits, disabled or a pensioner, you may be entitled to a one-off cost of living payment of up to £650. If you are eligible, you'll be paid automatically. Find out more about the cost of living support

or for more information on the wider benefits available visit the NI Direct website

.
Get in touch

If you're struggling with managing your budget and would like to speak to us, use our webform to request a call back.
Request a call back