At Danske Bank UK, we're in an exciting phase of our business as we work to achieve our sustainability goals and what we want (and need) to progress further with our colleagues, customers and in wider society.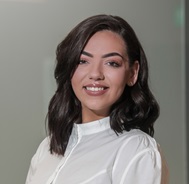 My name is Kerry – I joined Danske Bank around two years ago on the Graduate programme and as part of that programme I've been lucky to work in five different departments since I started. I was privileged (and so excited!) to have the chance to be working on our sustainability journey in my last rotation on the programme before I move onto my permanent role in the bank. Before I move on, I thought I would share some of the things that we've been working on.


Biodiversity
With biodiversity loss now one of the most significant environmental threats facing the planet, we've included biodiversity protection in our climate strategy for the last few years and achieved Platinum level in the Business in the Community Business & Biodiversity charter in 2019. Activities initially focused on helping to support biodiversity at a number of our properties, planting wildflower gardens and installing bird boxes for example. At our head office in Belfast, we've recently also installed a sedum roof (a green or living roof of vegetation) and more living walls throughout the building.
This year in particular we've seen some brilliant examples of colleagues doing their bit for biodiversity and amazing projects we've collaborated with other organisations on in local communities.
One highlight was definitely the launch of our partnership with Keep Northern Ireland Beautiful Eco-Schools. Volunteers from across the bank helped to create productive gardens and outdoor learning spaces in 11 primary schools across the country, working with pupils to plant wildflowers and fruit such as apple trees, plum trees, raspberry and strawberry bushes. The spaces also include bug habitats and a plank seating area suitable for small groups or a whole class. And what was really cool? We started to see the learnings our colleagues made spill over into their working lives.
Colleagues in our Knock branch created a biodiversity garden at their branch, and in our Killeaton office, teams spent time volunteering, with the help of Keep Northern Ireland Beautiful, to make their very own edible garden – once the fruit and veggies planted are ready to be picked, they'll even be used in our canteen at the office! We've been engaging with organisations in our communities in recent months to expand these ideas further and I really look forward to being able to share more.
Getting our colleagues involved
One really important aim for us, is to help educate our colleagues across the business on sustainability and encourage them to make changes in their own behaviours. We believe that the largest positive impact can be made when each of us make small changes. To do that, this year we have had a strong focus on education and learning, including sustainability training open to all colleagues, and ESG training for our business banking managers.
With our people spread out over the country, and many working mainly from home under Covid-19 guidance, we also thought about new ways to stay connected and engaged. Green and Climate champions across the business meet regularly to hear what's going on and share ideas and support with each other, and then bring back their learnings to their teams.
Becoming more environmentally-friendly in our business
We also created a dedicated Yammer community – Climate change & Environment – where we could share updates on what the bank is doing in this space, but also some great hints and tips from colleague to colleague. We've had recommendations of local shops operating refill stations, tips on how to grow our own produce, how to make a bug hotel (for home, branch or office!) and even our favourite vegetarian and vegan alternative foods. It's a popular community and has definitely become a go-to space for me to pick up some great ideas to work on at home!
Alongside education, we know it's important to look at our policies and ways we could further support our colleagues and achieve our sustainability goals.
Over the last 10 years or so, we've been working hard to reduce our operational greenhouse gas emissions by reducing waste, energy consumption and making our energy supply greener. We're committed to moving our branch operations away from fossil fuels. So far we have:
replaced old oil fired boilers with high efficiency natural gas boilers and committed to no longer installing new boilers running on fossil fuels (unless it's impractical to do otherwise);
installed LED lighting in our two head office buildings and 12 branches, saving a whopping 180,000kWh per year;
installed solar panels at 12 of our properties, including our two largest buildings. They are saving 58 tonnes or greenhouse gases a year.
Recent initiatives have included changing our employee car scheme to include and encourage electric vehicles (our company car fleet will be fossil fuel free by 2025) – and to help get them moving, we installed charging points at our Killeaton and Donegall Square West offices, and these are already being used.
We've also launched a Bike to Work scheme, where colleagues can get a saving on the purchase of a new bike, and shared a series of videos from colleague to encourage others to cycle to work. They've shared tips on everything from how to look out for a good bike, how to keep it working well and what things to think about before you cycle to work.
There's a lot going on, from our colleague engagement, to business changes, to supporting our customers in buying greener homes. But, this is most definitely a journey – there is so much more we can be doing. The important thing for us is, we've started that journey and are fully committed to achieving those goals.
Look out for more updates on our website and social media channels, or of course, reach out with any questions you might have.