Setup guide for eBanking
This guide will take you through your first logon to eBanking with Access ID. You'll also find detailed contact information and useful links to help you get the most out of eBanking.
Before you can log on
To log on to eBanking, you need:
Your user ID and security card (letter 1)
Your passcode (letter 2)
We'll send you a letter with your user ID and security card first, followed by your temporary passcode a few days later.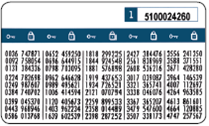 If you haven't received all of these items, please contact Technical Support on 0345 603 1534 (calls from outside UK +44 28 9004 9219).
Using eBanking
Whenever you log on to eBanking, you need to key in your user ID, your passcode and a number from your security card. You'll have to do this every time you use the service as your computer will not save any of your credentials.
Go to www.danskebank.co.uk. On our homepage, in the top right corner, click the blue "Log on" button and select "eBanking".

The eBanking logon screen will display.

When the logon screen has loaded, you're ready to log on using your user ID, passcode and security card that we sent to you.

Type in your user ID and passcode. Your user ID consists of eight digits and the passcode consists of four digits. Click "Continue".

Now you must change the temporary passcode we sent you to one of your own choice, which must be 4 digits. Follow the instructions below, then click "OK".

Next, you need a code from your security card. First check that the security card number shown on the screen corresponds to the number printed in the top right corner of your card.

Next, find the key number shown on your screen. The six digit number in the column to the right of the key number on your security card is the corresponding security number.

Type in the security number and click "OK".
Great – you're now successfully logged onto eBanking. You can use the same logon details to access our range of Mobile and Tablet banking apps.
Accessing agreements in eBanking – Business customers only
If you're party to numerous agreements within eBanking (for example a business account and a personal account), you can now log on using one single user ID. When you've logged on with Access ID you'll see the following screen: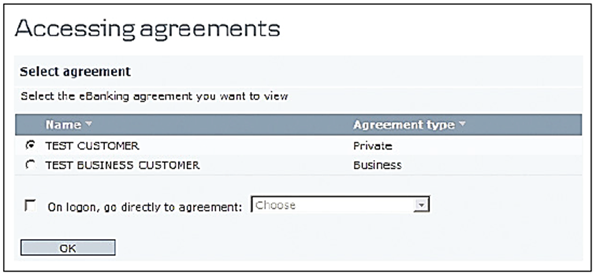 You're able to select a default agreement so that each time you log on, you'll automatically go straight to the accounts attached to that agreement.
If you'd like to select a default agreement, please follow these steps:
Mark the check box "On logon, go directly to agreement:" and select the agreement from the dropdown menu.
To access the accounts linked to this agreement, please click on "OK".
If you don't mark the check box then each time you log on, you'll see the full list of agreements and you can choose which one you want to access.
If you wish to view another agreement, (i.e. switch from viewing your business accounts to viewing your personal accounts or accounts under another business name), follow the steps below:
Click on the "Select other agreement" function at the top of the accounts page (highlighted on the screen below).

The following screen will appear and you can choose the agreement you want to view.

Please click 0K on the radio button next to the agreement you want to view. You can then click on "OK" to view the accounts attached to the agreement.
Contact information
Technical Support will be able to help you with technical queries and questions you may have about eBanking functionality. To get in touch with them, please use the contact details below:
Contact information
opening hours
Calls within UK
0345 603 1534
Mon–Thurs: 8am–8pm*
Fri: 8am–5pm*
Sat & Sun: 9am–4.30pm*

Calls outside UK
+44 28 9004 9219
*Except for bank holidays
eBanking may be temporarily unavailable when we're carrying out routine maintenance.
We may record or monitor calls to confirm details of our conversation, and for training and monitoring purposes.
Call charges may vary. Please refer to your phone company for details.
Technical requirements and FAQs
Go to danskebank.co.uk.
Click "Personal" > "eBanking"
In the menu on the right hand side, you'll find links to our technical requirements, our FAQs and more.
Always keep your computer software updated. You can download Webroot Secure Anywhere® free if you use eBanking. It uses worldwide Webroot © Intelligence to identify new files, classify threats in real time, prevent browser attacks, remove viruses from your PC, and defend against financial and data-theft malware. To do so, please go to our Keep it Safe page.
Remember to keep your security card safe. Do not record or store your user ID or passcode anywhere without taking reasonable steps to disguise them.
Always remember to log off when you have finished with eBanking. If you don't, it will stay active for a further 30 minutes after which, for your security, it will automatically log you off.
Danske Bank's logon solution, Access ID, runs with most operating systems and browsers. You can see an extended description of our technical requirements at www.danskebank.co.uk.
Security
If you want to read more about security in Danske Bank, please refer to our security pages.