Cash withdrawal limits & ATM withdrawals for personal customers
In January 2020 we reduced the amount of cash you can withdraw from your bank account(s) at our branches.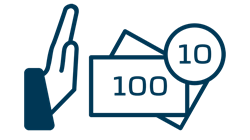 You can withdraw up to a maximum of £2,500 cash from your account(s) in a single transaction or in several transactions, which appear to be linked, using the counter service in our Branches. There will be no change to withdrawing cash from our cash machines. We've introduced this limit to protect you and to help reduce financial crime.
Don't forget to bring your identification when calling at one of our branches to withdraw cash from your account as you may need it. Examples of proof of identity (originals please, as we won't be able to accept photocopies) include:
Valid passport
Valid Full UK/ROI driving licence
EEA Member State Identity Card
Current Electoral Identity Card for Northern Ireland
Blue Parking Card if you have a disability
Translink Senior Smart Pass
DRD Half Fare Smart Pass
If you don't have any of the above, please let us know ahead of your visit so we can support you with alternative options to the above.
Alternatives to Cash
We offer a number of alternatives to withdrawing cash from our Branches. These include ebanking, the Danske Bank App, or our Contact Centre. You can make payments using your debit card, Faster Payments, cheque, Banker's draft or CHAPS. Payment limits and fees and charges may apply. See our 'Fees and service charges explained' leaflet for more information.
We also understand that customers may occasionally need to withdraw more than £2,500 cash from their personal accounts. Please contact us to discuss your requirements. You may be asked to provide documentation to support the purpose of the cash withdrawal.
If you have any queries, please talk to your account holding Branch or call us on 0345 600 2882 (lines are open Mon – Fri: 8am – 6pm / Sat: 9am-1pm / Sun: Closed).
Please note that in some circumstances we may decline your request.
To ensure we can facilitate your request in a timely manner, it is advisable to give advance notice for cash withdrawals over £2,500.
ATM withdrawals
You can withdraw cash from your account(s) using your debit card in a single transaction or over several transactions in any one day up to the daily ATM withdrawal limit for your card. Withdrawals from Danske Bank ATMs are free, however, you may be charged if using other ATMs.
You can also make cash withdrawals using your Danske Bank Credit Card in a single transaction or over several transactions in any one day, however, these withdrawals will incur a fee of £2.75 for withdrawals up to £100 or £2.75% of the value of the cash withdrawal for withdrawals of over £100. Find your closest Danske Bank ATM location using our ATM finder.