Front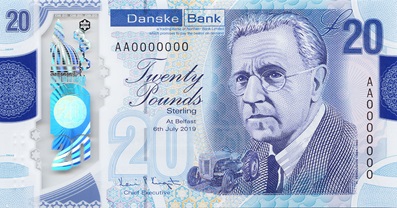 Size: 139 x 73 mm
Colour: Shades of blue
Danske Bank Logo.
Portrait of Harry Ferguson.
The words Danske Bank written in microtext in concentric patterns within the 4 corners of the note.
Back
Size: 139 x 73 mm
Colour: Shades of blue
City Hall Belfast dome.
The words Danske Bank appear in microtext in three corners of the note.
The note should feel smoother than a paper note.

There are three arrangements of four dots in a square formation on the £20 notes, enabling physical identification for the visually impaired.
Lines should be sharp and well defined with no blurred edges. Colours should be clear and distinct.

The bank note contains a printed magnetic stripe which runs vertically through the note, starting between the letters a and n of the Danske Bank brand at top of the note.

There is a clear window in the bank note which you can see through. The clear window also contains a holographic foil which is highlighted when the note is tilted.

Some areas of the bank note which appear as plain print or a fine line, are in fact very small printed text. This can be seen clearly through a magnifying glass.

Serial numbers are on the front of the note, one vertical and one horizontal.

On the front of the note, the number 20 appears on the top corners, in the clear window and below the words Twenty Pounds. On the back of the note, the number 20 appears on the bottom left corner and also above the image of City Hall dome.

The words Twenty Pounds are detailed left centre on the front of the note and in the middle toward the bottom of the rear of the note.

When observed under UV light, there are areas of the banknotes which appear as two separate glowing colours.
Compare the note
Always compare both sides of a suspect note with another note that you know to be genuine, looking for differences between the two. Make sure you check the size of a suspect note against a known genuine note.