Front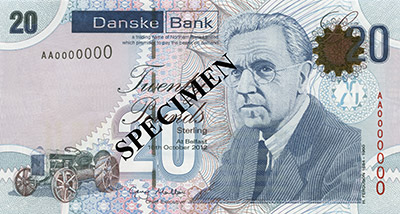 Size: 142 x 75 mm
Colour: green
Portrait of H. Ferguson
New Danske Bank Logo.
Tractor bottom left corner.
Gold foil top right corner.
Northern Bank written in concentric patterns within the 4 corners of note. The letters NB or the number 20 appears in the cog wheel designs.
Back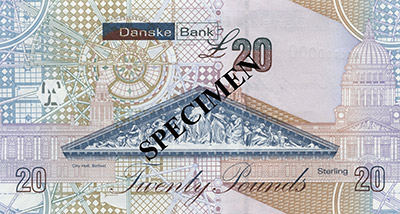 Size: 142 x 75 mm
Colour: green
City Hall Belfast dome.
The words Northern Bank appear in microtext in the brown sections to the top and lower right of the rear of the note and along the upper right edge of the City Hall Pediment.
The letters NB appear in the cog wheel designs within the large £20.
The paper should feel crisp - not limp, waxy or shiny.

If you run your finger along Danske Bank title, denomination, address and signature all are raised.
Lines should be sharp and well defined with no blurred edges. Colours should be clear and distinct.

H Ferguson the same as the main portrait (visible from front and back). Electrotype twenty to the right of portrait watermark.

When held to the light the word "Northern" appears within the 1.2mm embedded thread.

Behind left ear of portrait, includes hexagon pattern within the design which changes to blue when tilted to light.

"Northern Bank" under the portrait and denomination value within the circle around the logo.

Serial numbers are on the front of the note, one vertical and one horizontal.

The number 20 appears on the top left corner and left centre of the front of the note and on both lower corners of the rear.

The words "Twenty Pounds" is detailed left centre on the front and is centred toward the bottom of the rear of the note.

£20 is partially overlaid on the gold foil on the front of the note and right of centre on the upper section of the rear of the note.

If you place note under a good quality ultra violet light you will see the barcodes on the front of the note.

On the back of each note, incorporated within the wheel pattern and also the dome top right of the triangle are fluorescent inks.

Foil with DP overprint.
Compare the note
Always compare both sides of a suspect note with another note that you know to be genuine, looking for differences between the two. Make sure you check the size of a suspect note against a known genuine note.