Front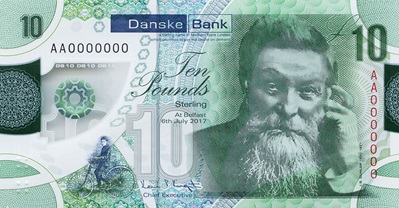 Size: 132 x 69 mm
Colour: green
Danske Bank Logo.
Image of Mr Dunlop's son alongside that of his father.
The words Danske Bank written in concentric patterns within the 4 corners of the note.
Back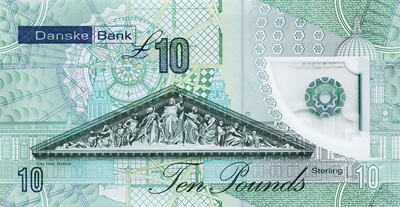 Size: 132 x 69 mm
Colour: green
City Hall Belfast dome.
The words Danske Bank appear in microtext in the green sections to the top and lower right of the rear of the note.
Note quality

The note should feel smoother than a paper note.

Tactile feature

There are two arrangements of four dots in a square formation on the £10 notes, enabling physical identification for the visually impaired.
Compare the note
Always compare both sides of a suspect note with another note that you know to be genuine, looking for differences between the two. Make sure you check the size of a suspect note against a known genuine note.