Danske Large Business
Designed to keep you in control of your Business' day to day cashflow.
Available to relationship managed customers in Business Centres and Corporate Banking
District - our online banking platform
Access to Branch and Post Office® network
Due to market conditions, we've taken the difficult decision to raise the transaction and maintenance fees we charge on our Business Current Accounts for the first time in several years.
These changes will be made from 1 October 2021 and you can read full details here.
We understand that you may have questions about what these changes will mean for you and have provided further information here, including details of how you can get in touch.
| | Danske Large Business |
| --- | --- |
| | A current account providing you with the convenience of using your local Danske Bank Branch, local Post Office®, and District to manage your finances.​​ |
| Accounts included | 1 |
| District Payments Module* | £10 per month |
| Online Payments | 40p/70p |
| Mastercard Business Debit Card | Free |
| Automated transactions | 40p |
| Monthly Fee** | £6.00 |
| Branch Service | Yes |
| Post Office® Service | Yes |
| Lodgement Fee | 72p per lodgement |
| Items lodged at cash drop | 72p per item |
| Cash lodged at cash drop | 82p per £100 lodged |
| Items lodged at counter | 72p per item |
| Cash lodged at counter | 82p per £100 lodged |
| Cheques Issued & manual debits | 82p per item |
| Cash withdrawal at counter | 82p per withdrawal |
| Cash paid out at counter | £1.32 (per £100 paid out) |
* District may be temporarily unavailable when we are carrying out routine maintenance.
** See our 'Fees and service charges explained - Business Accounts' leaflet for full details.
Products and Services included to help you manage your cashflow
Important information
This section contains the important information relating to your account.
Using the Current Account Switch Service, switching your current account to Danske Bank is a free, quick, simple process and it is guaranteed to be completed within seven working days.
For more details about the Current Account Switch Service and the Current Account Switch Guarantee, please visit our Become a customer page.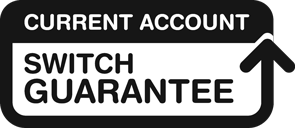 How to apply for your account