Mastercard Corporate Platinum
All the features of MasterCard Corporate Classic but with superior benefits.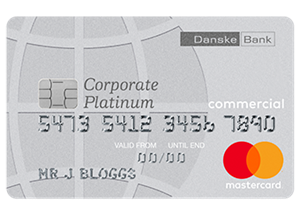 Priority Pass airport lounge access
Mastercard Concierge Service
Danske 3D Secure
Access to Priceless Cities
£70 Annual fee per card applies
Benefits and features
Convenience
Mastercard Corporate Platinum is a charge card with a 30 day rolling limit that also lets you withdraw cash through any Cash Machine showing the Mastercard logo. You will pay fees for this and interest from the date your account is debited. An annual card fee applies for each card issued. This is not a credit card, the monthly repayment is 100% of the debit balance each month.
The account holder will hold one Mastercard Corporate Card Account. On each account it is possible to have multiple cards, both Mastercard Corporate Platinum and also Mastercard Corporate Classic to suit your business needs. The account holder can set individual spending limits on each card for example to control employee expenses.
Individual card limits are set by the account holder for each cardholder in order to provide a maximum card spend in any 30 day rolling period - regardless of the amount of available credit on the card account.
An itemised monthly statement is produced but you can also keep up to date with transactions in real time using District.
Danske 3D Secure
3D Secure adds an additional layer of security when shopping online at participating retailers. For more information visit our 3D Secure page.
Priority Pass
Priority Pass provides access to over 1,300 lounges in airports all over the world.
With Mastercard Corporate Platinum cardholders can enjoy free Priority Pass membership including free and unlimited access to airport lounges* for the cardholder and one guest. Each additional guest is charged at £15 per guest, per visit.
*Cardholders can find up to date information about the lounges they can visit at prioritypass.com
Mastercard Concierge Service
Mastercard Concierge Service can help cardholders to plan business arrangements, pre-trip information, entertainment and more, including:
Air Travel Information and Reservation
Car Hire Information and Reservation
Chauffeur Driven Car Service
Destination Information
Golf Course Information
Holiday Information and Reservations
Hospitality and Event Ticketing
Restaurant Reservation
Information Services
Cardholders can access the Mastercard Concierge Service by calling:
This service is available 24 hours a day, 7 days a week. Calls may be recorded. Call charges may vary. Please contact your phone company for details.
For further information please read our 'Danske Mastercard Corporate Card Terms and Conditions' leaflet.
Priceless Cities
Priceless Cities is an exclusive offer just for Mastercard holders.
The programme gives you the chance to enjoy unique and exciting experiences with your Mastercard in major cities across the world, including London, Dublin, Moscow, Miami, Sydney and New York.
Priceless Cities also gives you access to offers on dining, entertainment, sports, travel, theatre and music.
For more information about offers and experience both home and abroad, visit priceless.com.
For further information please read our 'Danske Mastercard Corporate Card Terms and Conditions' leaflet.
If using your card for non-sterling transactions, please refer to our Travel money webpage.
Card Management
With our online financial platform District, you can block and reorder a card, order a PIN or change the card limit, along with many other functions.
Full details of our interest rate, charges and other key product features can be accessed via the Summary Box link below.
The representative APR quoted in this summary box is on the assumption that you are issued with one Mastercard Corporate Platinum card. The APR calculation takes into account the annual card fee noted under 'Fees' for one card of that type.
APR stands for 'annual percentage rate'. It aims to give people a more accurate idea of how much they are being charged when they borrow money. It allows people to compare the total cost of borrowing money for different types of credit cards, and lengths of time.
Conditions
Statement balances must be settled in full by Direct Debit Mandate by the Payment Due Date which is five business days after the statement date
Priority Pass and Mastercard Concierge Service care subject to Rules of User. They can be found in our Mastercard Platinum Card Terms and Conditions
Additional cards are available on request
You may need to provide security
Whether we provide credit depends on your circumstances, and you must be 18 or over. Lending terms and conditions apply.
District may be temporarily unavailable when we are carrying out routine maintenance.