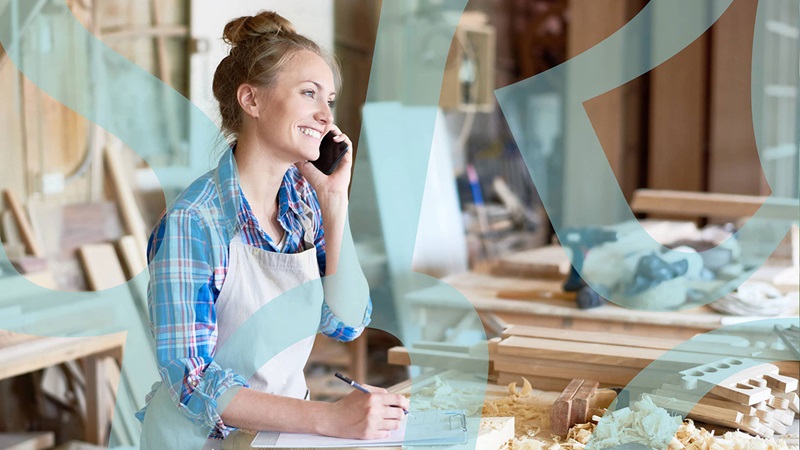 2 years fee free business banking
with a Danske Small Business Digital Account

Eligibility Criteria
You are a new Danske Bank customer, with no existing business accounts with us.
You are a Northern Ireland resident or have a trading address in Northern Ireland.
You have a business turnover of £250,000 or below.
You must agree to switch your main business current account in full to a Danske Bank Small Business Digital Account using the Current Account Switch Service (CASS) within 60 days of account opening.
You are one of the following: a sole trader, partnership, limited company, unlimited company, limited partnership, or a limited liability partnership, all subject to status and eligibility.
You must select a MasterCard Business Debit Card when opening this account.
You must register for District, our online financial platform, when opening this account.
Overdraft facilities are not available as part of this switching offer but you can discuss credit facilities with us once your account is open.
If you do not meet the criteria but would like to discuss our other business accounts, call us on 0345 850 9515.
Things you need to know
Fee free banking means that you won't be charged for your transaction, maintenance fees and service charges on your Small Business Digital Account for 2 years from the date your account is opened. Please see fee table below for details. Any other fees and service charges will apply as normal.
All of our fees and service charges can be found in our Fees and Services Charges Explained brochure.
At the end of the 2 year period, you'll be charged standard charges for your day-to-day business transactions.
In order to proceed with your switching request, we will require 3 months bank statements from you. These can be uploaded during the application process. We will be unable to proceed with the switch if these are not provided.
The offer only applies to registrations of interest received by 31 December 2023. You will still have 60 days from the date of account opening to complete your switch.
We reserve the right to withdraw this offer at any time. Other terms & conditions apply.
Start your journey:
Step 1: Review our Small Business Digital Account below and see if it's right for you.
Step 2: Register your interest by completing our Small Business Digital Account form
Step 3: Once you've completed the necessary steps to open your account with us, you then must complete your switching agreement within 60 days and let the bank take care of the rest.
Product details
Here's an example of what your fee structure will be during and after our offer:
Danske Small Business Digital
A current account designed for customers who manage the majority of their finances through online banking.
During fee free period
After fee free period
Monthly Fee
Free
£9.00
Lodgement Fee
Free
£1.10 per lodgement
Items lodged at cash drop
Free
50p per item
Cash lodged at cash drop*
Free
50p per £100
Items lodged at counter
Free
£1.60 per item
Cash lodged at counter*
Free
£1.60 per £100
Cheques Issued & manual debits
Free
£1.60 per item
Cash withdrawal at counter
Free
£1.10 per withdrawal
Cash paid out at counter
Free
£1.60 (per £100 paid out)
Cash Exchanged
Free
£1.60 per £100 exchanged
District**
Free
Free
Online Payments
Free
Free
Automated transactions
Free
Free
Mastercard Business Debit Card
Free
Free
Accounts Included

1

1

Branch Service

Yes

Yes

Post Office Service

Yes

Yes
*Reasonable usage limits apply- please see our terms and conditions for further details
** District may be temporarily unavailable when we are carrying out routine maintenance.
See our 'Fees and service charges explained – business accounts' leaflet for full details.
Products and Services included to help you manage your cashflow
Important information
This section contains the important information relating to your account.
Business Account Checklist -What you'll need to open an account
Participating providers of UK business bank accounts have agreed to a basic set of information that they will need from you to set up your UK business current account. Find out what you'll need to provide using the simple Business Account Checklist from UK Finance, the UK's leading trade association for financial services.
View the UK Finance guide to opening a business current account.
Switch an account
Our staff can explain the features and benefits of our business accounts and allow you to make an informed decision about the right banking solutions for your business. The Current Account Switch Service makes switching from one bank or building society to another simple and stress-free whether you're a consumer, small charity or small business. With the Current Account Switch Service you can choose a switch date to suit you. Just make sure you allow a minimum of seven business days.
If your new bank or building society agrees, bank accounts that include an overdraft can switch using the Current Account Switch Service. And if you'd like to have an overdraft with your new bank account, speak to your new bank or building society before starting your switch. Your new bank or building society will be able to advise if you're eligible for an overdraft, dependent on their lending criteria and your credit status.
For more details please view the Current Account Switch Guarantee.

When you ask to switch your current account to us, we will:

explain the entire switching process and discuss the options available to you.
on completion of the Current Account opening process agree with you a suitable date on which your old bank account will switch to Danske Bank.
make your switch as smooth as possible - our dedicated Danske Bank switching team will take care of all your bank details and keep you informed every step of the way.

The Current Account Switch Service is for eligible customers only.

If your business employs fewer than 50 people and whose annual turnover and/or annual balance sheet total does not exceed £6.5 million. Or if the account to be switched is a Charity whose annual income is less than £6.5 million.

A customer must meet all criteria to avail of the Current Account Switch Service. If your business does not meet the above criteria please speak to us about alternative arrangements.

Note: This applies to sterling business current accounts only.
Have you given permissions to Third Party Providers (TPPs)?
If you have given permissions to TPPs to make payments on your behalf, or to access your financial data, access to these services won't be transferred automatically to your new account as part of the Current Account Switch Service.
Before you close your old account, check whether you have any TPP permissions set up and if so, who with.
Once your new account is open you can give your permission to the TPP to access your new account by providing them with your new account details. You will need to contact the TPP directly yourself to set this up.
If you are unsure as to whether we will support the TPP permissions on your old account, you will need to discuss this with us ahead of your switch and we will be able to advise you.
Please check our terms and conditions for more information about TPPs.
If you do not meet the criteria but would like to discuss our other business accounts, call us on 0345 850 9515.
Content is loading