By Conor Lambe, Chief Economist at Danske Bank
The coronavirus pandemic has been impacting the Northern Ireland and UK economies for almost a year and a half now. During this time, there have been striking falls in economic output as lockdowns were introduced to limit the spread of the virus and much reliance has been placed on support measures, including the Coronavirus Job Retention Scheme, to protect jobs. However, one part of the economy that has performed strongly, despite the impacts of the pandemic, has been the housing market.
Earlier this month the Northern Ireland House Price Index for the second quarter of the year, produced by the Northern Ireland Statistics and Research Agency and Land & Property Services, was published. This latest data showed that, over the twelve month period from 2020 Q2 to 2021 Q2, house prices in Northern Ireland increased by 9.0% to a standardised value of £153,449.
This was lower than the 10.9% increase observed across the whole of the UK but was still the fastest rate of annual house price growth in Northern Ireland since the final quarter of 2007. It also means that in 2021 Q2, local house prices were 9.5% higher than in the final quarter of 2019, before the onset of the pandemic.
A number of different demand factors have contributed to this rise in prices including savings built up by some households being used to help buy a property; people re-evaluating their housing needs and looking for properties with, for example, outdoor space or room for a home office; continued low interest rates and the Stamp Duty holiday. On the supply side, constraints in the supply of housing have also continued to exert upward pressure on prices.
The data showed that the rise in prices in quarter two was a broad based one but some interesting points stood out. Prices increased over the year for all property types however it was detached houses that experienced the largest rise of 12.1%, compared with 8.6% for semi-detached properties, 7.7% for apartments and 6.1% for terraces. Prices for existing properties (9.9%) grew at around double the rate of new houses (4.9%) and, at a regional level, prices increased across the board with the largest rises observed in the Causeway Coast & Glens region and in Ards & North Down.
The next release of house price data, for the third quarter of the year, is scheduled for November 2021.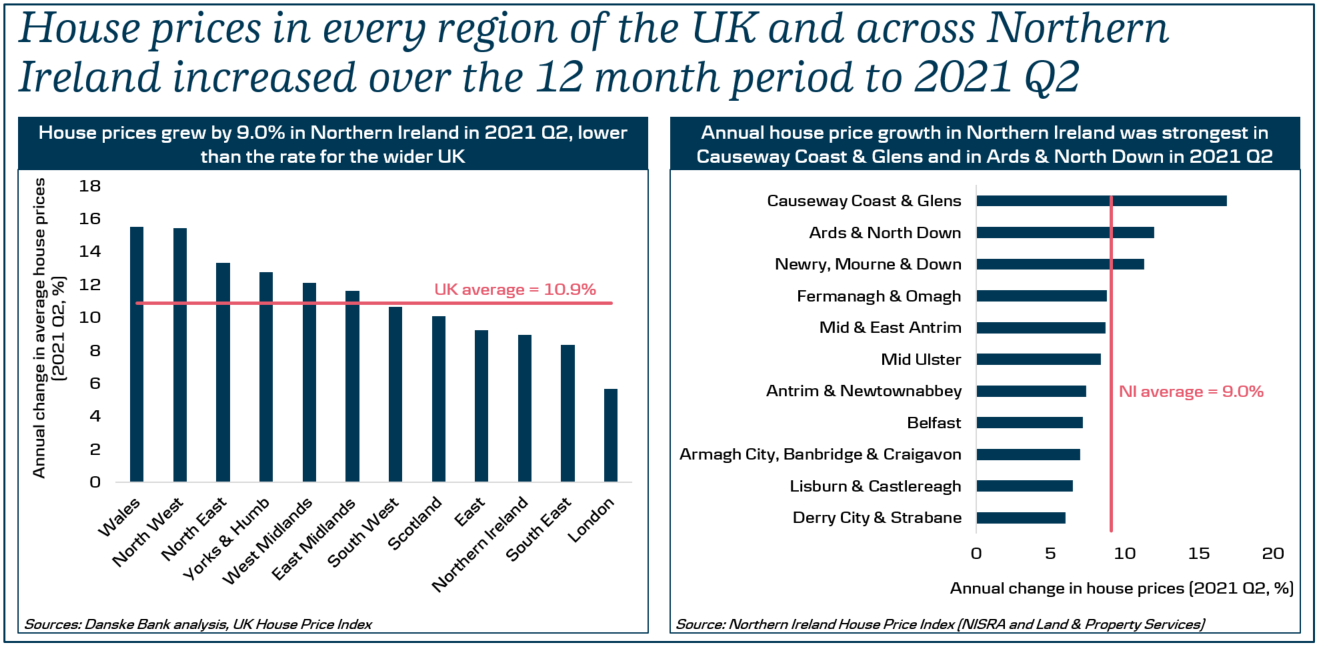 To view a larger version of this image, click here.